Blitzing the American Music Awards (AMAs) with one-of-a-kind music ads, scheduled for unique AMA-only airtime, Chrysler Group showcased some of their hottest vehicles by teaming up with some of today's hottest artists.
"It's incredibly rare and special to find a unique partnership where some of the world's biggest artists and brands align so perfectly, allowing both the opportunity to deliver entertaining and meaningful content to their audiences," said Olivier Francois, Chief Marketing Officer, Chrysler Group LLC. "Taking part in the American Music Awards was our way of saying 'thank you' to this industry and to the many artists who, over the years, have played a meaningful role in helping to develop the unique voice and spirit of each of our brands."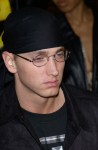 So, who were the artists and which vehicles were they matched with to highlight the "Let's Keep Driving Music" theme?
With deep-seated Detroit roots (not to mention a previous relationship with the brand) and a music video entitled "Guts Over Fear," what better choice was there for the Charger SRT Hellcat than Eminem? His 30-second spot is exactly what you might expect – gritty and powerful. Much like the Hellcat.
Fergie brought her own kind of style and "L.A. Love (la la)" to the Chrysler 200. Leave it to Fergie to find a way to make mid-sized sedan sexy.


Forget unpacking hearts. Phillip Phillips stole the hearts of women across America in the Ram spot as he sang his song, "Unpack Your Heart." I can almost guarantee wives and girlfriends everywhere melted for 30 seconds as they watched him drive the Ram 1500 EcoDiesel across their screen.
Gwen Stefani and the FIAT 500L were on fire as "Spark the Fire" finished the only 60-second spot that started with Fergie, sandwiched Phillip Phillips (Not a bad place to be, if you're Phillip Phillips) and recognized all five Chrysler Group brands.
These ads will not be aired again on television. You can, however, view them on YouTube:
As someone who watches the Super Bowl for the game with an appreciation for the commercials, I have to admit I am anxious to see what Chrysler has in store for us this year.