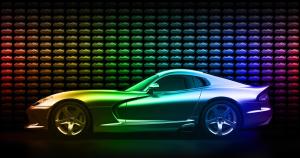 It's a beautiful piece of machinery with wicked, alluring lines that draw you into its unmistakable style. Meticulously hand-built, it's seduction meets sophistication, and now owning one means yours is the only Viper GTC of its kind.
Offering more that 25 million build combinations, the new 2015 Dodge Viper GTC rejects the uniformity of car design. Create your own "1 of 1" design and then watch Team Viper hand-build your dream car as your personal Viper Concierge keeps you in the loop with behind-the-scenes photos and updates.
Once its finished, choose to have the vehicle shipped to you or pick it up at the Conner Avenue Assembly Plant in Detroit and then take a tour of the facility.
Preview the customizable designs, sign up for updates and view videos at http://www.drivesrt.com/2015/viper/1of1.
Are you ready to experience the subtle note of perfection that defines Viper?
If you answered no, then I must ask – have you experienced Viper? Because once you have, once the passion of the Viper DNA stirs your soul, the attraction is undeniable.
One of few custom-built cars on the planet, exacting attention is given in every step of the build. Every component involves human crafting and is then tested for precision perfection.
From the carbon fiber that is hand-cut and intricately placed to comprise 48 percent of the exterior to the hand-knotted threads of the hand-sewn leather, Team Viper has set the bar high to ensure the fifth generation carries on the legacy of its name. Only a few roll off production on any given day, ensuring expectations are met and quality is never sacrificed.
To share their passion, Dodge created "Viper: DNA of a Supercar." It's a 22-minute documentary detailing the creation of the Viper.
"The Dodge Viper is a precision-handcrafted machine expressively built to stimulate all the senses of an enthusiast's soul," said Tim Kuniskis, President and CEO, Dodge and SRT, FCA North America. "It's not widely known what it takes to create this supercar, including the 140 to 160 hours to hand paint each Viper, so we produced the film to show what sets the Viper apart from everything else in its segment."
Meant to inspire admiration, Viper is truly the opposite of ordinary.