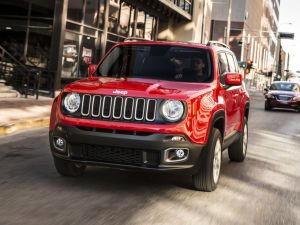 It was scheduled for a big reveal at the Geneva Motor Show this week, but some photos of the new 2015 Jeep® Renegade were leaked a little early. This tidbit of information has caused quite a stir…Jeep is downsizing? What?
Yes, it's true. The new Jeep Renegade will be the smallest of the Jeep lineup and while it is difficult to tell from the pictures, early descriptions have called it just slightly larger than its Italian cousin, the FIAT® 500L.
From the front, it is clearly all Jeep—announcing its presence with the traditional round headlights, the telling seven-bar grille and the recognizable trapezoidal wheel arches. For a fleeting moment, you almost think you're looking at a Wrangler. But then you are quick to realize that this is a much smaller version and, I have to admit, curiosity takes over. Will this be what Americans expect from a vehicle that sports the name Jeep across the front of it?
Early expectations say yes.
"The all-new 2014 Jeep Renegade expands the brand's product portfolio and targets the rapidly expanding small SUV segment around the globe with benchmark levels of efficiency and driving dynamics, while at the same time delivering best-in-class 4×4 capability that customers expect from Jeep," said Mike Manley, Jeep president and CEO.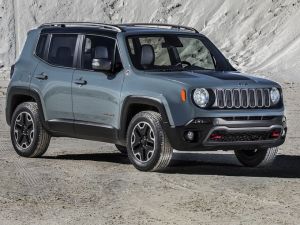 Jeep will offer four trim levels of the Renegade—the Sport, Latitude, Limited and Trailhawk. You can choose from two engine and transmission options: a 1.4L turbo gas engine with a six-speed manual transmission or a 2.4L gas engine with a nine-speed automatic transmission (originally introduced in the 2014 Jeep Cherokee). Fuel economy has not yet been announced, but early expectations suggest it will exceed 30 highway mpg.
With standard features to flatter the nine-to-five, rush-hour crowd, the Renegade has plenty of options to "Jeep it up" for fun, outdoor, weekend excursions that take on your more adventurous side. In true Jeep tradition of enjoying the great outdoors from the driver's seat, you can opt for a glass, panoramic sunroof or removable roof panels that easily stow in the cargo area. The Renegade comes standard with front-wheel drive, but you can choose from two all-wheel drive systems to best suit your driving needs. And for those of you that get all kinds of crazy, there's a dashboard grab-handle for when your front-seat passenger needs to hang on!
Designed to appeal to younger buyers, the Jeep Renegade is definitely the Wrangler's snarky little brother. From front to back, there is plenty of Jeep DNA built into this vehicle to be the "starter" Jeep that makes you a lifelong fan. Watch for it to be hitting showroom floors in early 2015.