The 2018 Dodge Durango SRT® stands on top of the mountain.
The Rocky Mountain Automotive Press (RMAP) association awarded America's most powerful three-row SUV as its 2018 Crossover of the Year.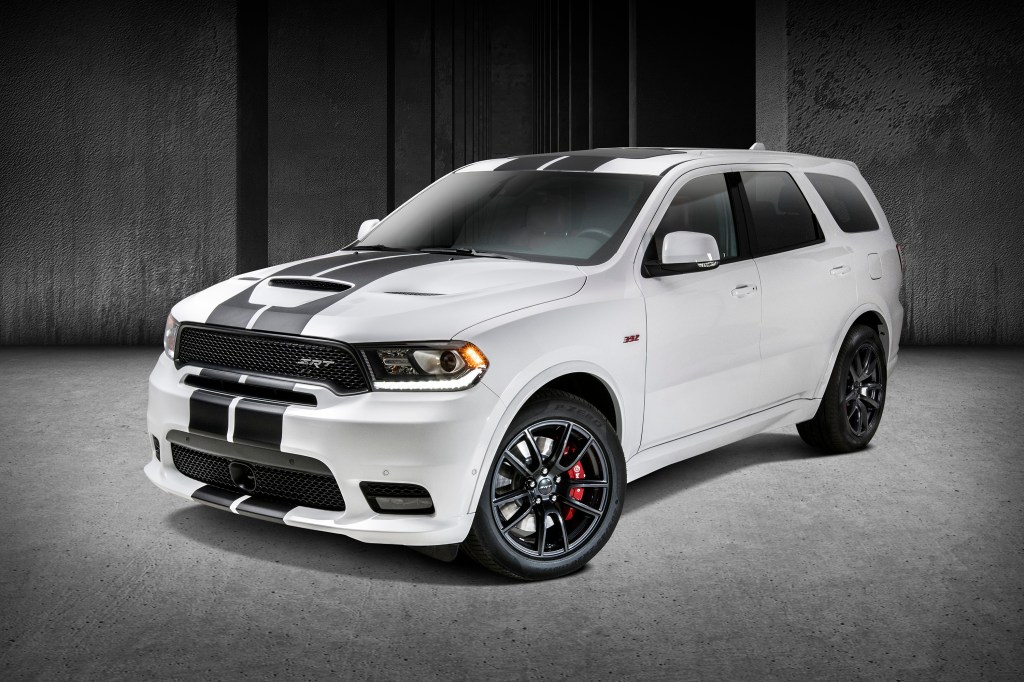 The award was selected by RMAP members – all automotive journalists in the Rocky Mountain region, including Arizona, Colorado, Idaho, Kansas, Nebraska, Utah, Wyoming and Montana. Dozens of new or significantly updated vehicles for 2018 were evaluated, determining which model best fit the "Rocky Mountain lifestyle."
The Dodge Durango SRT's total package of a powerful engine, advanced technology capabilities and exterior performance features made it stand above the rest of the other candidates. Whether on the highway or taking it off-road, this Dodge SUV thrives in the Rocky Mountains.
With a 392-cubic-inch HEMI® V-8 engine, the Durango SRT reaches 0-60 miles per hour (mph) in 4.4 seconds, and accomplished a National Hot Rod Association-certified quarter-mile time of 12.9 seconds.
The award-winning vehicle also matches its speed with power, out-hauling every three-row SUV on the road with best-in-class towing capability of 8,700 pounds.
This honor comes after the Dodge Durango SRT made the Wards 10 Best User Experience List for 2017 for its array of advanced technology features, including a class-exclusive 8.4-inch touchscreen and ability to support smartphone integrations of Apple CarPlay and Android Auto.
"The 2018 Dodge Durango SRT made a great impression in its first RMAP event by how well-integrated this high-performance vehicle is for the Rocky Mountain region," said David Muramoto, President-RMAP.
"From clean, functional styling to how well the powerful drivetrain and electronic systems work together, the Dodge/SRT team did fine work in impressing RMAP voters."
This year was the Durango SRT's debut at a Rocky Mountain Automotive Press event. However, FCA US LLC vehicles have garnered success in previous RMAP events. In 2015, the Ram 1500 EcoDiesel and Chrysler 200 were voted the Truck of the Year and Car of the Year, respectively.