Chrysler Capital and Santander Consumer USA awarded a $10,000 grand prize and five $500 prizes for each brand to customers who signed up for paperless statements earlier this year.
But the sweepstakes was a win-win as Chrysler Capital and Santander Consumer USA signed up thousands of customers for paperless statements.
"We are excited to announce our winners of the paperless sweepstakes," said Lori Millard, SC executive vice president of Customer Service and Operations. "We love rewarding our customers for making a difference in their carbon footprint by opting to go green and eliminate paper."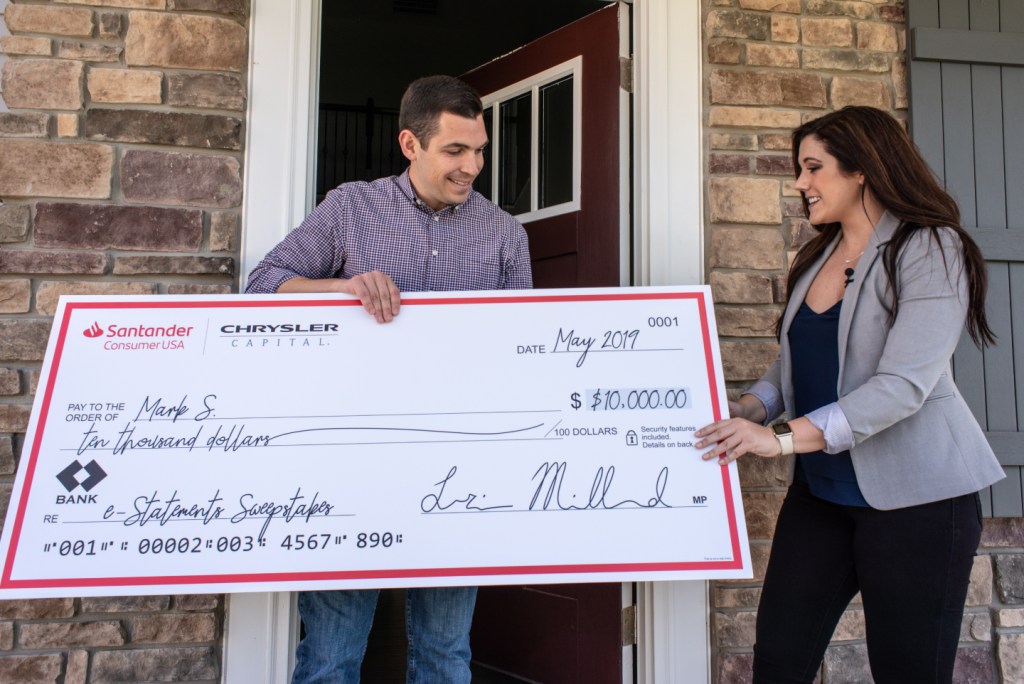 The sweepstakes winners are:
Chrysler Capital
$10,000 winner
Mark S. of Copley, OH
$500 winners
Atia R. of Philadelphia, PA
Alma V. of El Paso, TX
Helen Y. of Queensbury, NY
John D. of Seattle, WA
Lance W. of Houston, TX
Santander Consumer USA
$10,000 winner
Nakeia C. of LaGrange, GA
$500 winners
Cherrie G. of Orange Park, FL
Wayne C. of Charlotte, VT
Karyana T. of Marion, SC
Jacquelynn W. of Los Angeles, CA
Tanisha L. of Dallas, TX
Prize called a blessing
Nakeia C., a single mother of two who worked hard all her life until getting ill two years ago, couldn't believe how lucky she was to win. "Life has been pretty hard … but this prize is definitely a blessing that came at the right time to help me get back on my feet."
The winner said she "was amazed at how quick and simple it was" to sign up online to receive paperless e-statements rather than other available options. Nakeia was randomly selected for one of the two $10,000 grand prizes from Chrysler Capital and Santander Consumer USA.
Nakeia said most of the prize money will go to paying medical bills but that she'll enjoy some of it with her supportive family. "The peace of mind this prize has brought really is its own reward."
'Hard to describe'
"It just feels incredible, it's amazing," said Mark S., who signed up for paperless billing after leasing a truck in January. "I've never really won anything like this before in my life, so it's hard to describe."
Asked what he plans to do with his $10,000 in sweepstakes winnings, the Ohioan said, "We just moved into the house and have a lot of home improvement ideas to work out … But, most importantly, we're going to put some money away for our two kids' education."
Chrysler Capital and Santander Consumer USA customers were entered into the sweepstakes automatically when they enrolled in e-statements at the appropriate website. Chrysler Capital and Santander Consumer USA customers who already were enrolled in e-statements, also known as electronic or paperless statements, were entered as well.
Customers go paperless
"Customers are excited about how easy it is to sign up for paperless," said Laura Weithman, SC's senior vice president of customer and employee experience. "By answering a quick question at sign in, they don't have to worry about receiving extra paper in the mail and now realize how easy it is to access their statements 24/7 through our online portal."
The sweepstakes, which ran for two months, resulted in almost doubling of the enrollment rate for paperless statements, with a total of about 190,000 customers entered.
"With the updates to the paperless sign-up process on our website and introduction of the sweepstakes, we have seen a boost in paperless adoption rates," said Zach Munichiello, senior vice president of operational strategy. "We are excited to continue watching our paperless adoption rates increase."
Although the sweepstakes has ended, customers still can sign up for electronic statements at Chrysler Capital to enjoy the benefits of accessing their monthly statements online.
Signing up for electronic (paperless) billing with Chrysler Capital is easy:
Choose the "Go Paperless" option
Select "Electronic"  under "Statement Preferences"
Click "Save"
If you don't see the "Go Paperless" button on the "Account Summary" page, then you already are signed up for electronic statements.
*Check image shown above is not an actual check, and is non-negotiable.