Reporting November sales of 170,839 units, a 20 percent increase over sales during November 2013, Chrysler Group LLC posted their best November since 2001. In addition, they've extended their streak of year-over-year sales gains – 56 months and counting.
Each of the five brands recorded sales gains, with the namesake leading the pack at 30 percent. The breakout star was Chrysler's all-new 2015 Chrysler 200, logging a 155 percent increase.
Introduced late last spring, the 2015 Chrysler 200 has earned itself a plethora of awards, including Ward's 10 Best Interiors for 2014 and 2014 IIHS Top Safety Pick+. Most recently, it received a "Best Buy" award from the November issues of both Consumers Digest and Consumer Guide Automotive, plus the "Best Sedan" award from the Hispanic Motor Press Awards.
In addition to the 200's over-the-top, history-making sales performance, the Chrysler 300 saw an 18 percent increase in November. The iconic, yet sophisticated style of the new 2015 Chrysler 300 was unveiled at the Los Angeles Auto Show in November and is sure to keep sales of this vehicle moving.
While Chrysler led the pack, Jeep® was hot on their tails, pulling in a 27 percent gain. For the third consecutive month, Jeep Cherokee was the brand's top performer.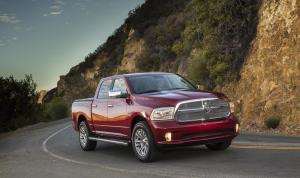 The Ram Truck brand rounded out the top three with a 21 percent year-over-year sales gain. Showing consecutive sales gains for 55 straight months, November proved to be an impressive awards month, as the brand continues to pique the interest of the editors of MotorTrend and other industry watchdogs:
Winner 2015 half-ton truck shootout – MotorTrend
2015 Green Truck of the Year – Green Car Journal
"Best Buy" designation – Consumer Guide Automotive
"Best Buy" designation – Consumers Digest
November was one for the books across the board, according to Reid Bigland, Head of U.S. Sales. "In total we had 11 vehicles last month that set new sales records," he said. "Calendar year to date, Chrysler Group remains the fastest growing automaker in the country."
The 11 record-setters include:
Chrysler 200
Jeep Cherokee
Jeep Wrangler
Jeep Patriot
Dodge Challenger
Dodge Dart
Dodge Journey
Ram LD pickups
Ram ProMaster
Ram Cargo Van
FIAT 500L