It's easy to spot a Dodge Dart when you're driving down the road, from the aggressive, chrome-bezeled headlamps to the LED tail lamps that leave you in the dust, it will get your attention. But when it hits speeds over 214 mph, there is no doubt the Dart earned its name along with a trip to the winner's circle.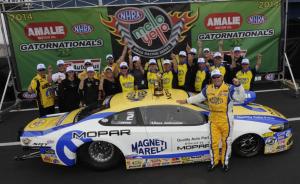 Winning was no surprise to Allen Johnson or Jeg Coughlin Jr., the drivers who predicted the new Mopar Dodge Dart NHRA Pro Stock car would be among the top in its class. Confident in the vehicle he was driving as he got behind the wheel for its debut appearance, Johnson proceeded to record his fastest career run, documenting a top speed of 214.04 mph, qualifying for the No. 4 starting position. Also posting a career-best and securing the spot right next to Johnson in the No. 3 position, Coughlin recorded a top speed of 214.62 mph as the Dodge Dart he was driving made its inaugural run.
Johnson went on to take the win—his second consecutive win this racing season and his first in the Dodge Dart, after recently retiring his Dodge Avenger at an event in Phoenix.
"What a great job the Mopar engineers, everybody at Chrysler Group, Dodge and SRT did," said Johnson, the 2012 NHRA Pro Stock champ and 2013 series runner-up. "I just can't say enough. For the last two weeks since the Phoenix win, it's been nonstop. My guys haven't had a day off. It says a tremendous amount about our crew, and the engineering efforts behind it (the Dart). Everything to do with the design of the Dart, the engineers took our input and really came up with a great car. To be able to do that (win in its first race) is a huge accomplishment."
Part of the Chrysler family for over 75 years, Mopar has been a fixture in professional motorsports since the 1960s and winning is what they know. Mopar became known for a series of high performing platform cars based on the 1962 Dodge Dart and Plymouth Belvedere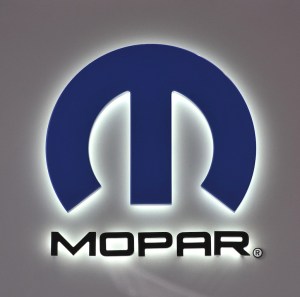 that dominated the drag strips. Shortly thereafter, they began selling parts to drag racers, eventually resulting in today's Mopar Performance Parts division.
Mopar is also the source for Fiat Chrysler Automobiles (FCA) parts and accessories off the track and is synonymous with quality. Mopar parts are engineered according to the same factory-authorized vehicle specifications as those made for FCA vehicles. This unique relationship is a distinct advantage over other aftermarket parts that may be similar but never perform in the same manner as an original, factory-built part.
But it's more than just the parts. Mopar is pioneering available automobile technology as the first in the industry to offer things like vehicle information apps for smartphones, electronic owner's manuals and wireless charging for portable devices. Factory-trained service technicians at your Chrysler, Jeep®, Dodge, Ram and FIAT® dealerships understand the engineering and cutting-edge technology that go into FCA vehicles. They will fix your vehicle right, with authentic Mopar parts. Plus, approved accessories and service plans can be included in your finance or lease plan with Chrysler Capital.
Are you considering a Dodge lease? Check out some of the approved Mopar accessories you can add to give it a more personalized touch before you drive your new vehicle home. Your dealer has a list of approved accessories or visit www.mopar.com for a full list of Mopar products.