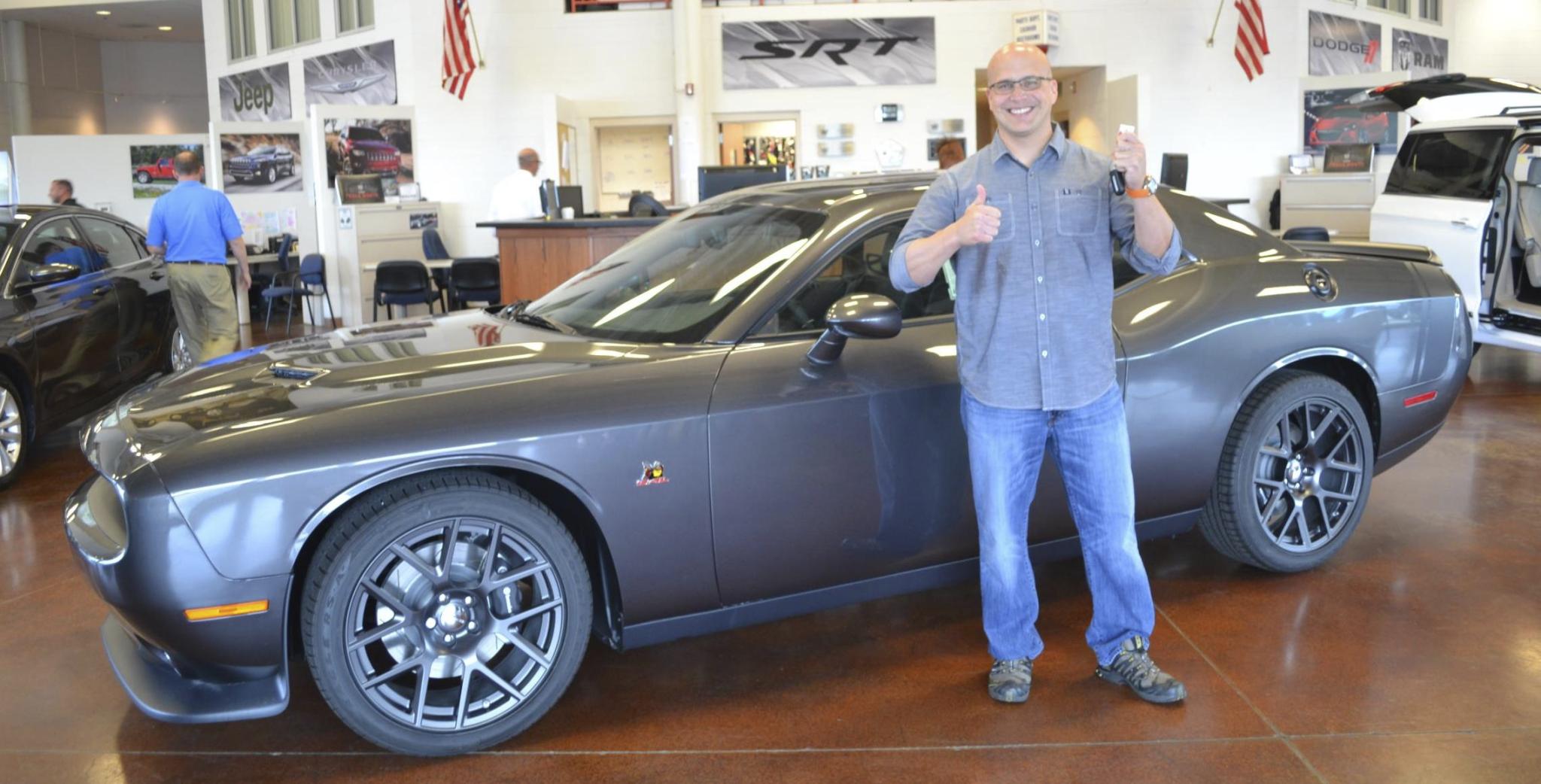 Anytime I shrug off getting a lottery ticket, I am later reminded that it only takes one chance to win.
Yes. And I once heard my chances of getting struck by lightening are better. No, thanks.
Luckily, Tristate Fire Protection District Firefighter Kevin Arias, from Oswego, Illinois, doesn't share my skepticism. On a whim, he completed an entry form to win $45,000 toward the purchase of a new FCA brand vehicle.
That was over a year ago, while attending the 2015 SHOT Show® in Las Vegas. (The SHOT Show is the Shooting, Hunting and Outdoor Trade Show™ held each year in Las Vegas.) He visited the Ram Truck display and took what resulted in a 1 in 1,265,218 chance of winning.
Today he's the winner of the 2015 FCA National Giveaway and proud owner of a brand new 2016 Dodge Challenger R/T Scat Pack.
So, what happens when you get that call? Whether on purpose or by chance, Arias let it go to voice mail. Then, when he checked his voice mail, he thought it was just another one of those scams that you hear about on television. Until the caller mentioned the Vegas SHOT Show and Arias remembered entering to win the $45,000 voucher.
"Ironically, a few months ago I told my wife, 'I don't think I'll ever get my hot-rod.' I've wanted a hot rod for
as long as I can remember, so when FCA told me I won a car, I immediately chose the Dodge Challenger," said Arias. "I'm feeling truly blessed. I never win anything, so when I got the call from FCA it was unbelievable. On top of that, everyone at FCA has made this experience just awesome."
Arias recently picked up his new Challenger at Tyson Motors in Shorewood, Illinois and plans to use it strictly for special occasions, like taking his daughter out for ice cream.
"It's exciting to have the opportunity to gift one of our event attendees with an FCA vehicle," stated Jason Russ, Head of Experiential Marketing for FCA US LLC. "Given how Kevin Arias heroically serves his community as a Chicago fire fighter, it gives us great pleasure to present him with his new Dodge Challenger. We anticipate that he will have many years of joy from his brand new muscle car."
The FCA National Giveaway takes place each calendar year. Entries are collected throughout the year as consumers attend hand-on FCA brand events across the country. There is no purchase necessary to enter or win. For the official sweepstakes rules and details on how to enter, please visit www.fcaentertowin.com. Void where prohibited.
The 2016 sweepstakes ends December 31, 2016.