Tax season is here – a time when many people receive the boost of a refund, greater financial freedom and start thinking about new opportunities ahead.1
Last year's tax refund averaged more than $3,0002 and, whether you're planning the return of fair-weather road trips in a new vehicle or would like to pay off an existing ride, there are great ways to put that kind of money to use on your auto financing.
Let's take a look at some scenarios, starting with a vehicle purchase. See how to use a tax refund to buy a car in seven simple steps.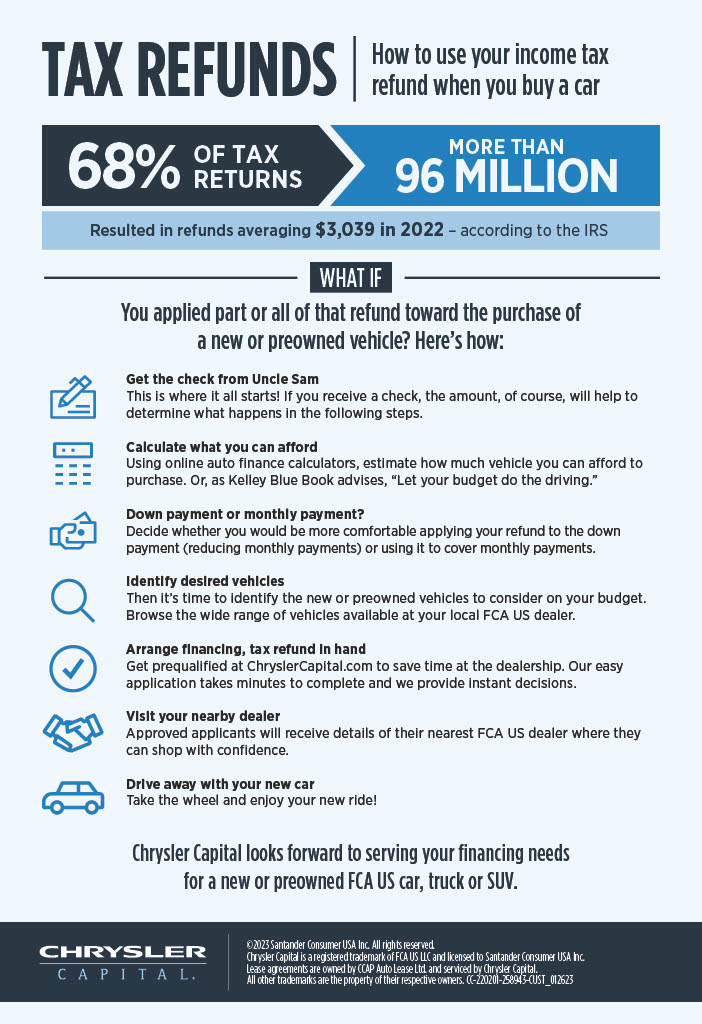 Benefits of using a tax refund to buy or lease
Get a lower monthly payment
A refund of around $3,000 will go a significant way toward covering the typical 12% down payment on a new vehicle, which has an average price of about $48,500, according to Kelley Blue Book. And it will almost cover 12% down on the average price of a used vehicle, which is near to $29,500, according to Edmunds.
By using Chrysler Capital's finance calculator, you can work out to what extent this cash may lower a monthly payment. Let's say you're interested in buying a new full-size SUV for $45,000 along with a 60-month financing term, 2.9% APR and a trade-in worth $21,000 – an average trade-in value. Entering these details into the calculator, with the trade-in sum going into the down payment field, shows that the payment would be $430.3 Add a $3,000 tax refund on top of the trade-in, effectively making a down payment of $24,000, and the monthly payment falls to $376. That results in a saving of over $50 each month, and may save you money on interest charges, too.
Pay for upfront lease costs
If you're looking to lease, then you may wish to use your refund dollars for the money due at signing. This is the amount paid at the time you sign the contract and includes costs such as the disposition fee and first month's payment.
Pay for other auto expenses
Once you've settled on a vehicle, there are other expenses for which a tax refund could come in handy. If you're purchasing a new vehicle with GAP coverage, you might want to use your tax refund to pay for the coverage. Buying a preowned vehicle with warranty coverage? Similarly, that money could be used for the cost of the warranty. And, whether you decide to purchase new, preowned or lease a vehicle, you may choose to spend your tax refund on the necessity of auto insurance.
Enjoy a head start on your payments
Another option is to allocate your tax refund to the monthly payments on your newly purchased or leased vehicle. In our earlier example, a $3,000 check could be used to make more than half a year's worth of payments on a five-year note – a considerable stretch.
Getting back on track
It's easy to miss a payment here and there when money is tight. If you're past due on your existing auto contract, it's important to catch up to fulfil your commitments and avoid potential added interest charges and fees. Consider using your tax refund to get current on your account and, once you're up to date, even paying down the principal balance. Chrysler Capital customers can simply log in to MyAccount to make their payment or select from a range of other easy payment options.
Pay off your vehicle completely
When a tax refund amount is large enough, it could be used to pay off your auto loan completely. A standard payoff consists of the principal balance that is owed plus any accrued interest, as well as any fees or other charges that may have accrued. If you're a Chrysler Capital customer, you can log into MyAccount or call us to get your payoff amount and follow our easy process to complete the full payment of your vehicle.
Shop the latest deals on FCA US cars, trucks and SUVs
Not only is tax season an opportune time to get a new vehicle, but a variety of incentives are available through Chrysler Capital to sweeten the deal. Browse the latest purchase and lease offers on Alfa Romeo, Chrysler, Dodge, FIAT®, Jeep®, Ram and Wagoneer brand vehicles, locate your nearest dealer and apply for financing online.
1These statements are informational only and should not be construed as legal, accounting or professional advice. Nor are they intended as a substitute for legal or professional guidance. Please consult an independent tax professional for any tax-related questions.
2Based on IRS 2022 tax filing season statistics.
3Estimate does not include taxes and fees.