You're lucky if it ever goes smoothly.
Whether you're filling up your carts online or speeding store to store around town, holiday shopping usually has its share of curve balls along the way. Even if we plan ahead sometimes, the experience can still be chaotic and leave us scrambling to find those last one or two gifts.
If one of these friends or family members happens to be an avid fan of all things automotive, you may have come to the right place to seal up your gift list.
Here are some fun last minute holiday gifts for car lovers from FCA US LLC brands.
Dodge brand
For all Dodge brand enthusiasts, this will be a Hellcat Holiday full of swag representing the Dodge Challenger SRT® Hellcat and SRT Demon.
Across Dodge's official merchandise site, you can discover a variety of gifts representing the popular muscle car. If your friend or loved one likes to look the part behind the wheel, he may appreciate sporting an authentic Dodge Demon Men's Street Race Jacket, lined with nylon waterproof and wind resistant fabric.
If you're wanting to be more festive for the season, you can grab a Dodge Hellcat Reindeer T-shirt that puts a holiday twist on the Hellcat emblem.
Most importantly, you can be the winner of your Ugly Sweater party when you walk in wearing this doozy.
 Jeep® brand
Jeep brand vehicles are made for adventure, going beyond the highways and traveling along the roads less traveled. So for such adventures, you want what you bring with you to match that same quality.
A perfect addition to a Jeep brand vehicle may be their Grizzly Hunting Cooler, built to withstand any bumps along the way. The 16-pound cooler features pressure-injected eco-friendly insulation and has a lifetime warranty.
Other solid gifts that could be used for a trip include a Polk Boom Waterproof Speaker and Premium Reclining Chair for whenever you set up your base camp.
Ram brand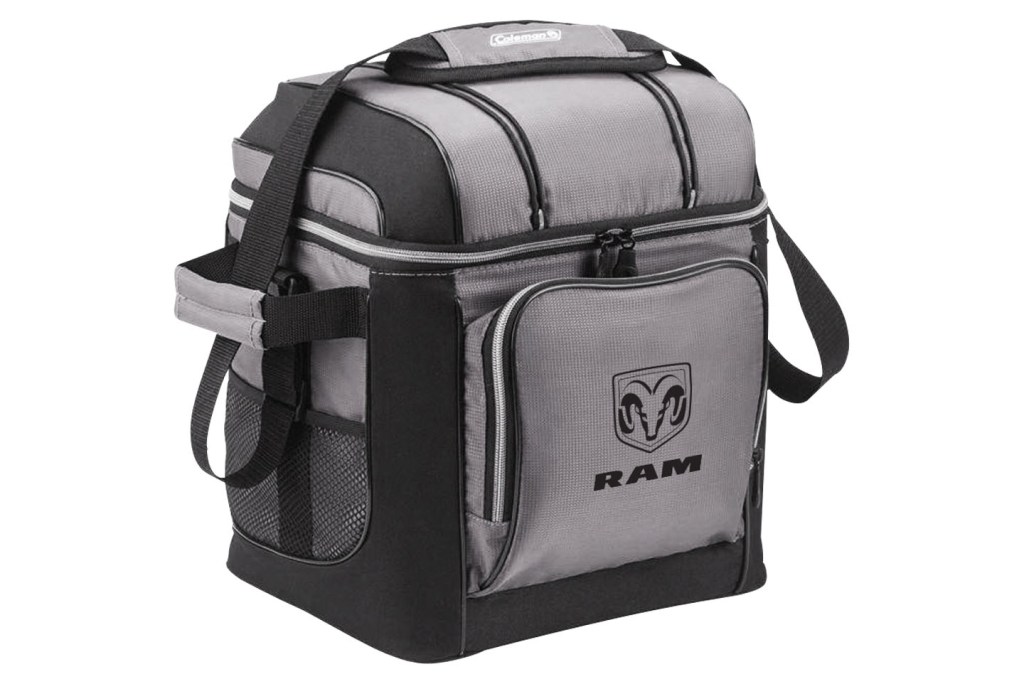 While the Jeep brand cooler can withstand heavy duty punishment, sometimes you just need something simpler for your drive.
The Ram 30 Can Cooler packs plenty of space for food and beverages and is comfortable enough for you to throw it around your shoulder to take on the go. If you're in need of something bigger and more durable, there is a Ram brand Grizzly Cooler as well.
If you're not looking for food and drink storage, you can drown out the noise with wireless Bluetooth Headphones or comfortably withstand the winter with an OGIO Grit Fleece Jacket.
The options don't stop here. If you're still looking for that perfect holiday gift with an automotive accent, you can visit these FCA US LLC brand merchandise stores at:
Dodge: www.Life.Dodge.com
Jeep: www.Gear.Jeep.com
Ram: www.Outfitter.RamTrucks.com