I've been trying to come up with a creative and convincing way to describe minivans as cool—sexy, even. I mean if nerds are the new "it" guys and what's old becomes new again, surely the minivan has a shot at becoming the hot, trendy vehicle of today, right?
Okay, maybe not. But, here's the thing…minivans are great vehicles. So why do they get such a bad rap? Why are they dubbed the "uncool?" Just take a look at what two of the best sellers have to offer: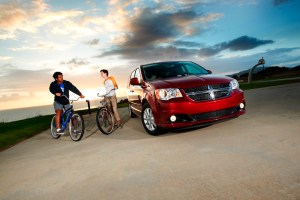 They come through for you. Period.
The Dodge Grand Caravan has 143 cubic feet of versatility at your service. What do you need done? This vehicle can probably help you do it. There's room to seat seven or drop the seats to move some furniture or pack up the family and go camping. Plus, it has up to 3,600 pounds of towing capacity with Trailer Sway Control to keep you and your cargo safe and secure. Check out all of this and more at www.dodge.com/en/2013/grand_caravan/.
What you see is what you get.
Chrysler's Stow 'N Go™ technology is synonymous with the Town & Country, and it's standard. You don't have to pay extra for the convenience of the "one-touch fold and tumble" seating. And when you're tailgating, the back row turns around for awesome, off-the-ground (and comfy) seating. Also standard is an exclusive Uconnect™ Media Center and LED Blue Sapphire halo lighting. With two flip-down screens, separate, all-new connectivity, and the peaceful glow, long family road trips are no longer the warzone of the past. To see everything the Town & Country has to offer, visit www.chrysler.com/en/2013/town-country/.
If it's worth doing, it's worth doing well.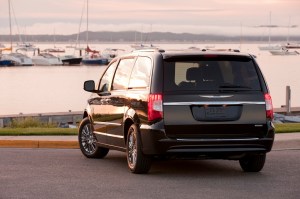 Year after year, both the Chrysler Town & Country and the Dodge Grand Caravan offer innovative, forward-thinking designs, technology and safety features that keep both vehicles at the top of their game. From being the first to offer dual front airbags to dual power sliding side doors, plus a variety of seating options, including integrated child safety seats, Stow 'N Go seating and Swivel 'N Go™ seating…the engineers go out of their way to come up with "what's next."
But it's more than just adding the next big thing. They also make sure it's done right, as evidenced by the lineup of awards both vehicles have earned through the years. The Dodge Grand Caravan is proud to have most recently been awarded:
2013 IIHS Top Safety Pick
USAA Minivan Best Value Award
Strategic Vision's 2012 Total Value Award for Most Improved Brand
The 2013 Chrysler Town & Country has been awarded:
IIHS Top Safety Pick
Highest Ranked Minivan in Initial Quality by J.D. Power and Associates
Whether or not minivans will ever regain their status of being the "it" vehicle remains to be seen. What is cool is that you can apply for financing for your new minivan right now.