It's not like any true fan needs a reason to see Mötley Crüe on their final tour this summer, but just in case anyone is looking for one, the Dodge Power Rallye Tour will be making pit stops at select concert events. Stop by, see the Crüe, test drive a new Dodge. And don't forget to get the T-shirt. Sounds like a perfect summer night to me!
The Dodge Power Rallye Tour kicks off this weekend at the Spring Festival of LX vehicles in Irvine, CA. The full lineup of 2014 Dodge vehicles included in the showcase are the Charger, Challenger, Dart, Durango, Grand Caravan and Journey. Special editions of the Charger SRT and Challenger SRT also join the line-up as they go on a nationwide tour of more than 50 events that include a variety of celebrations such as Viva Las Vegas Rockabilly Weekender (4/17-19), Taste of Omaha (5/30-31), Ohio State Fair (7/23-24) and, of course, select concert dates from the Mötley Crüe Final Tour, of which Dodge is the presenting sponsor.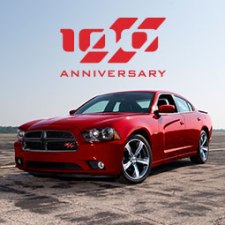 "Dodge, recognized by Fast Company as one of the 'World's 50 Most Innovative Companies,' is celebrating its 100th anniversary this year," said Tim Kuniskis, President and CEO, Dodge Brand, Chrysler Group LLC. "What better way for consumers to experience firsthand the best-in-class features, performance, fuel economy and technology of our 2014 Dodge lineup, than to bring the vehicles right to them."
In addition to checking out some great vehicles, many of the events will have interactive games where consumers can win prizes, including $45,000 toward the purchase of an FCA vehicle.
Events offering test-drives will feature special edition vehicles. Take a ride in the 2014 Dodge Charger R/T 100th anniversary model, commemorating 100 years of history, tradition and evolution that embody the Dodge way of life. Or slip behind the wheel of the classically styled, all-new Challenger R/T Shaker. The Grand Caravan 30th anniversary edition and Journey Crossroad will also be making public appearances.
For history buffs, motorheads and thrill seekers, some of the events will include a heritage wall chronicling 100 years of Dodge, a technology tent, and…wait for it…a Dragster Thrill Ride. Ah ha! Now that I've got your attention, picture this – a specially modified, factory-built 2014 Challenger R/T, complete with a Mopar Scat Pack 3 performance kit, ready to take thrill-seeking consumers on a heart-racing, adrenaline-pumping ride that demonstrates what high-performance acceleration really means. Oh yeah…now we're talkin'.
If you're not the lucky $45,000 winner, Chrysler Capital can help you win in other ways. With competitive finance rates and flexible lease options, an approval from Chrysler Capital is just another winning way to get the Dodge of your dreams. It's easy to apply for financing online from any computer, smartphone or mobile device. Or talk to your dealer about lease options. Either way, with a new Dodge in your driveway and Chrysler Capital as your lien holder, it's a WIN!