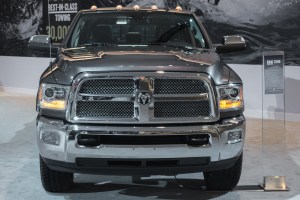 Not long ago, the RAM Truck engineers gathered together, resolved to challenge conventional truck "wisdom." The end result: Motor Trend's 2013 Truck of the Year. So how do you improve upon that? Good question. You deliver the 2014 RAM 1500, with EcoDiesel—the only new, light-duty diesel truck on the market.
Then you get named Motor Trend Truck of the Year for the second straight year.
"Half-ton truck customers have been asking for a diesel engine and RAM is the only truck manufacturer to answer the bell and deliver not only best-in-class fuel economy but also 9,200 pounds of towing capability," said Reid Bigland, President and CEO RAM Truck Brand, Chrysler Group LLC. "In a brutally competitive truck industry, the RAM 1500 is the only vehicle to ever win the Motor Trend Truck of the Year award two years in a row, reaffirming the fact that we have the best truck on the road."
Earning the Motor Trend title was not an easy feat. The 2014 RAM 1500 was up against some strong contenders that were also either all-new or experienced significant updates for model-year 2014, including the Chevy Silverado, GMC Sierra and Toyota Tundra. All nine of this year's candidates were put through their paces, testing nearly every facet you can imagine, and then some.
Once testing was completed, the results were measured against six criteria: Design Advancement, Engineering Excellence, Efficiency, Safety, Value and Performance of Intended Function. The judges evaluate each truck on its own merits in every category and then they vote. When the votes were tallied this year there was no need for a recount. The 2014 RAM 1500 was the clear winner.
"For 2014 we had a large and highly competitive field of contenders for Motor Trend's Truck of the Year," said Edward Loh, Editor-in-Chief of Motor Trend. "At the end of the day, though, the RAM 1500 quickly rose to the top. Not only did it withstand our rigorous testing, it thoroughly impressed our judges with its vast array of standard and optional equipment, and, most notable, its fuel-efficient, segment-exclusive EcoDiesel V-6. With 420 lb-ft of torque and up to 28 'Real MPG' highway, the EcoDiesel is a true game-changer. In fact it helped make RAM 1500 the Motor Trend 2014 Truck of the Year – and the only consecutive winner in the history of the award."
What's on the horizon for the RAM lineup? That remains to be seen. (Hey, I just work here. Did you think I was going to have some inside secrets?) For now, I suspect they will just keep doing what they do best—delivering quality, hard working, great looking trucks that consistently outperform the rest. Enough said.