Chrysler Capital is the full-Service finance provider for Chrysler Group LLC and its dealers.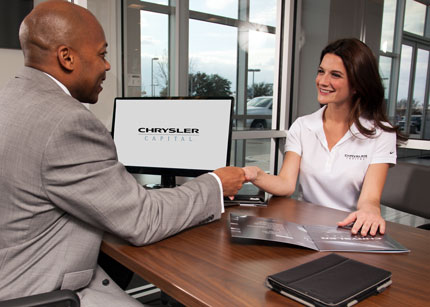 Chrysler Capital provides full-spectrum automotive finance for Chrysler Group dealers, direct-to-consumer lending solutions, plus fleet, lease, floorplan and business lending solutions. Chrysler Capital is known for its innovative technology and dedication to helping more consumers purchase Chrysler, Dodge, Jeep®, Ram and FIAT® vehicles. Chrysler Capital is a program of Chrysler Group LLC and Santander Consumer USA (NYSE: SC) a unit of global banking leader Banco Santander (NYSE: SAN), which was named "Best Bank in the World" by EuroMoney Magazine in 2012 and one of the "Top 10 Safest Banks" by Global Finance Magazine in 2011. Chrysler Capital is headquartered in Dallas with satellite business centers across the U.S.
Chrysler Capital is a trademark of Chrysler Group LLC and licensed to Santander Consumer USA Inc.
Multi-tiered Underwriting
Consistent approach to deal structuring
Every application is processed by our proprietary, risk-based scoring and pricing model
Simplified "one stop" approach offering full-spectrum finance (super-prime to sub-prime)
Non-recourse (franchise stores only)
Dealer-Friendly Underwriting
Automatic approvals, 24 hours a day
Complete deal structuring
Extended hours (M-F until 8 p.m., per business center time zone, Saturdays and most holidays)
One-on-one communication with a dedicated buyer
Listed on Dealertrack and RouteOne as Chrysler Capital
Funding with Consistency and Support
48- to 72-hour purchasing for clean deal packages
Assistance in gathering stipulations
Online tools to review status of deals
Electronic funds transfer
Sales and Marketing Support
Expert program education for dealership personnel (F&I, sales and accounting)
Dedicated field sales representative
Dealer incentive programs
Hands-on problem resolution
Financial Strength and Stability
Track record of success in a highly fragmented industry
Incomparable financial backing; billions in assets
Consistent, profitable growth across varying economic cycles
An industry leader for more than a decade
Sign up today! Complete a simple Information Form and a representative from our corporate office will contact you.