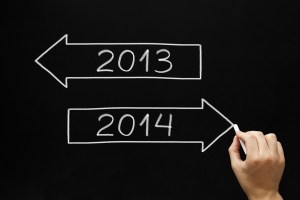 Are you tired of all the "year in review" stuff? It seems like everywhere you go, someone is looking back. Generally, I wouldn't bother y'all with this, but I have to beg your indulgence just this one time, as 2013 was quite a big year on this side of your computer screen.
Chrysler kicked off its Imported from Detroit® campaign at the beginning of 2013. As part of that campaign, they formed partnerships such as the one created with the RFK Center in an effort to stop bullying. To learn more about this and all the other great things going on at Chrysler, visit http://www.chrysler.com/en/imported-from-detroit.
The long-awaited rebirth of the Cherokee marked Jeep's defining moment of 2013. After announcing its return earlier in the year, it felt like forever until I could finally dive headfirst into the beauty of this vehicle. Once it did arrive, it most certainly did not disappoint and I'm sure will only continue to hold its own as a top seller in the years to come.
I'm pretty sure these days the name Dodge is almost synonymous with Ron Burgundy. You can hardly turn on the television without seeing one of the Durango commercials. But Dodge had more going on during 2013 than simply dealing with the antics of the brash, irreverent, hysterical news anchor. This marked the 30th anniversary of the award-winning Grand Caravan. And, right on its heels, Dodge announced the 100th anniversary special editions of the 2014 Charger and Challenger. We'll be looking forward to both of these vehicles turning heads shortly after the start of the New Year.
RAM never ceases to amaze and delight. Kicking off the year by declaring it the Year of the Farmer, they pledged a $1 million donation to the Future Farmers of America (FFA). You'd think they wouldn't have time for much else with the publication of the coffee table book (The Farmer in All of Us) and Easton Corbin's tour of FFA chapters around the country. But, they found the time to introduce the all-new 2014 ProMaster van and win Motor Trend Truck of the Year for a second year in a row (RAM 1500). And in December they trucked on down to San Antonio, Texas to deliver snow, toys and supplies to injured military personnel and their families. RAM has had a truly busy year.
In a most unique fashion, FIAT® introduced the roominess of the 500L to the world by commissioning an artist to paint the roof of the car as it sat on display at the LA Auto Show this year. But let us not forget the Abarth designed solely out of human bodies or the masterful "Italian Invasion" ad campaign that brought a whole new definition of sexy back. You can check out all of these and more at http://www.fiatusa.com/en/social. Meanwhile, I can't wait to see what FIAT has in store for 2014.
And last, but certainly not least, 2013 saw the birth of Chrysler Capital. Those were some exciting days in this building where I work. For those of us who were lucky enough to be here from the beginning and see it all unfold, it was pretty amazing. And I count myself lucky to be here today, experiencing everything as we continue to grow.
Here's to a remarkable year in review, and an even better 2014 ahead. Have a happy and safe New Year!