There's nothing like a loud, burly exhaust note for many performance nuts. A strong exhaust note makes a statement; it tells the driver and anyone close to the car that there is some serious power packed under the hood. With the release of the 2015 Dodge Challenger SRT and the all-new Dodge Challenger SRT Hellcat, Chrysler Group is making a statement, and it all begins with the exhaust note.
While the updated 2015 Challenger SRT will be offered with a small bump in total horsepower and improved dynamics, it's the Hellcat that will make headlines. Dodge and the SRT team have promised over 600 horsepower from the HEMI V-8 based engine, the most powerful engine in Chrysler Group history.
Challenger fans will notice some of the changes made to the muscle car immediately. The Dodge and SRT designers spent 35 percent more time in the Chrysler Group's wind tunnel in an effort to reduce drag and refine both the SRT and the SRT Hellcat's exteriors. The front and back fasciae hark back to the 1971 Challenger, the inspiration for the 2015 models.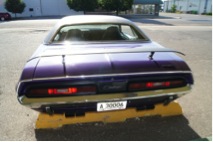 Both cars feature a cold air intake valve on the hood and the Hellcat also receives dual air extractors, which ensure effective removal of heat and reduce air turbulence. To further enhance cooling, the Hellcat features the exclusive Air Catcher inlet port, which feeds ram-air directly into the engine through the driver-side parking lamp.
Another Chrysler first found in the Hellcat is a two-key system. All Challenger SRT Hellcats come with a red key and a black key. The black key is meant for daily driving, it reduces engine output while still supplying the signature Challenger driving experience. The red key unlocks the full horsepower and torque potential of the supercharged V-8 powered muscle car. Both the Challenger SRT and Challenger SRT with Hellcat engine offer a valet mode.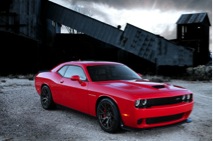 The interior on both vehicles receives an upgrade. Laguna premium leather seats and deep red finished speedometer and tachometer gauges give the SRT Hellcat a comfortable and performance inspired look.
Although neither car has reached lots yet, Challenger fans can visit the Chrysler Capital website to review their financing options.