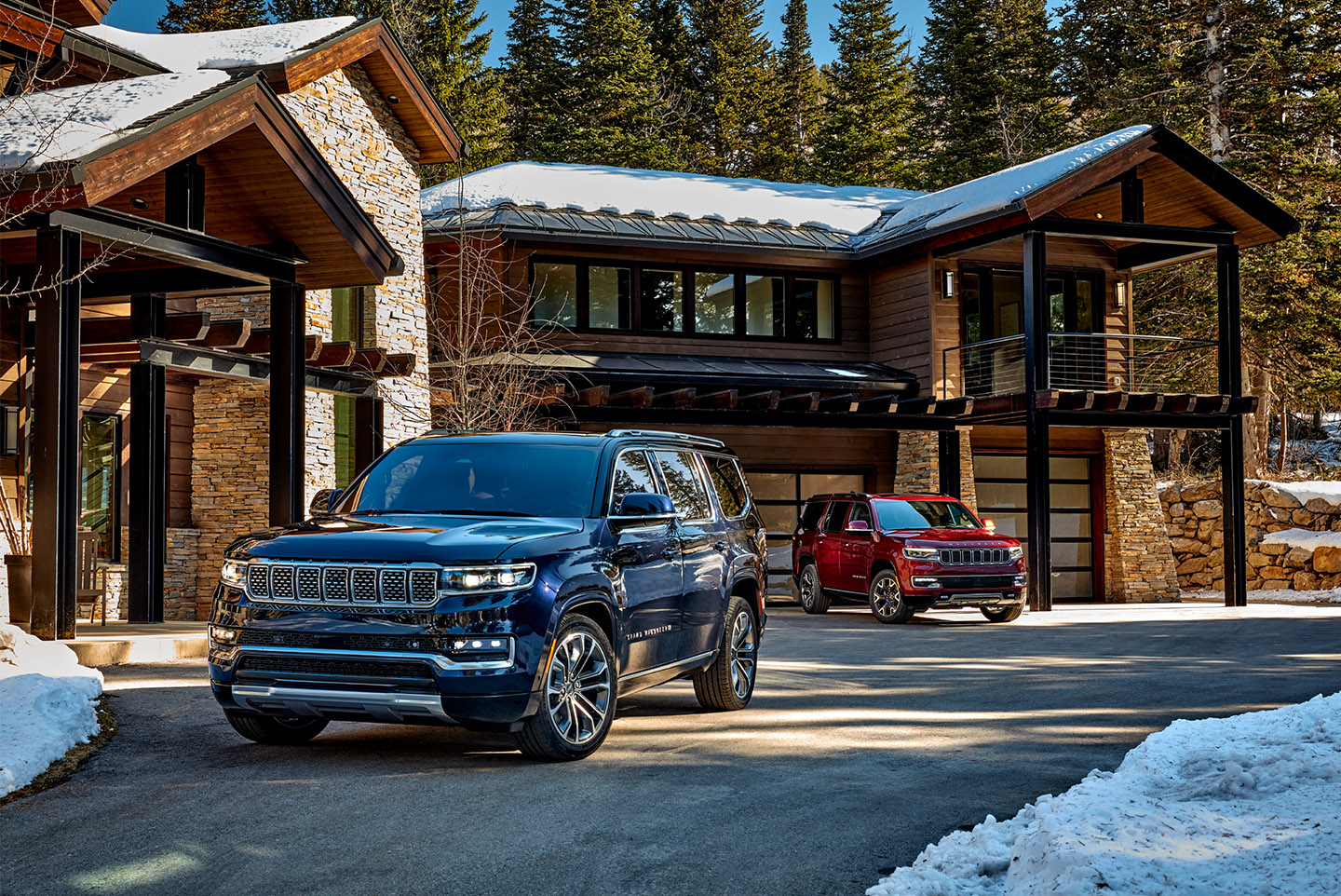 Every vehicle with off-road capability, it can be said, carries a sense of freedom, adventure and individuality.
Some, however, create a whole new path to follow.
In 1962, the Wagoneer arrived; a revolutionary station wagon that paired all the advantages of four-wheel drive with the styling, comfort and convenience of a passenger car.
In doing so, it captured the nation's heart and established a long line of Wagoneer models including the iconic Grand Wagoneer, a true pioneer of today's luxury SUVs.
Here, we follow their journey on the way to the all-new 2022 Wagoneer and Grand Wagoneer, and a stunning new era for premium travel.
1962 – A star is born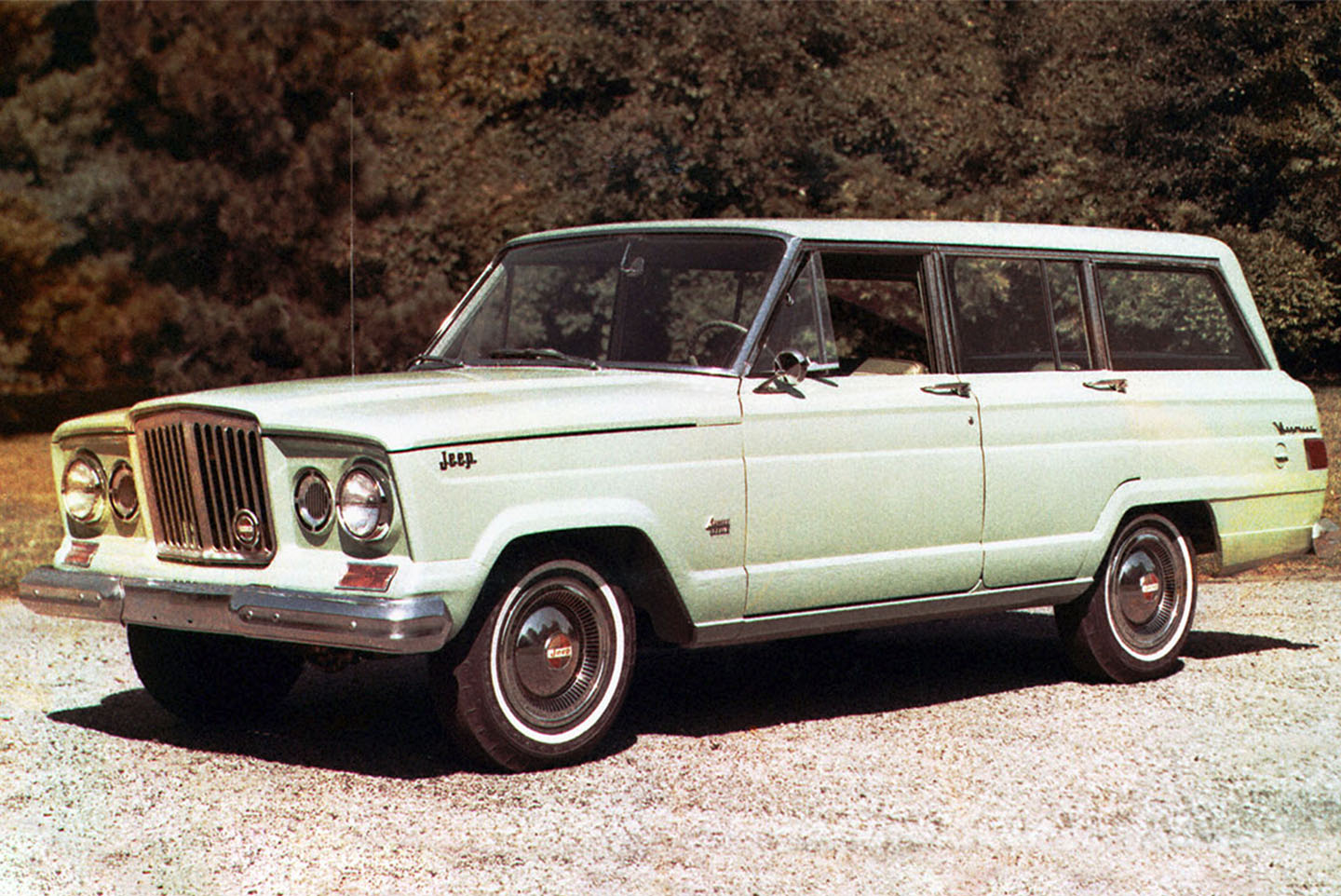 The Wagoneer greeted the world in 1962, for the 1963 model year, and became an instant design classic. The work of Jeep® brand designer Brooks Stevens, it not only looked good but opened up a landscape of possibilities for drivers of the day. A well-appointed passenger car was now available with mighty 4×4 ability; an accomplishment underpinned by numerous technological firsts. The Wagoneer was the first 4×4 to feature automatic transmission and independent front suspension, and these feats were followed by others such as the first automatic full-time 4×4 system and first overhead-cam six-cylinder truck engine.
1965 – Super cool
In the mid 1960s, Wagoneer went decidedly upscale with the introduction of the Super Wagoneer (1966-1969 model years), also known as "Super Custom." This luxurious vehicle raised the bar on refinement with an impressive list of premium features, all available as standard, comprising: air conditioning, power tailgate, power brakes and power steering, seven-position tilt steering wheel, tinted windows, three-tone body striping, vinyl roof or padded vinyl roof with chrome roof-rack, full-wheel hubcaps, white-walled tires, and a 327-cubic inch "Vigilante" four-barrel V-8 engine (270 hp) with console-shifted TH400 "Turbo Hydra-Matic" automatic transmission. Equipped with all of this, it cost $5,943, almost double the price of the base model Wagoneer. It also laid an important foundation stone for luxury sport utilities to come.
1977 – Toast of the town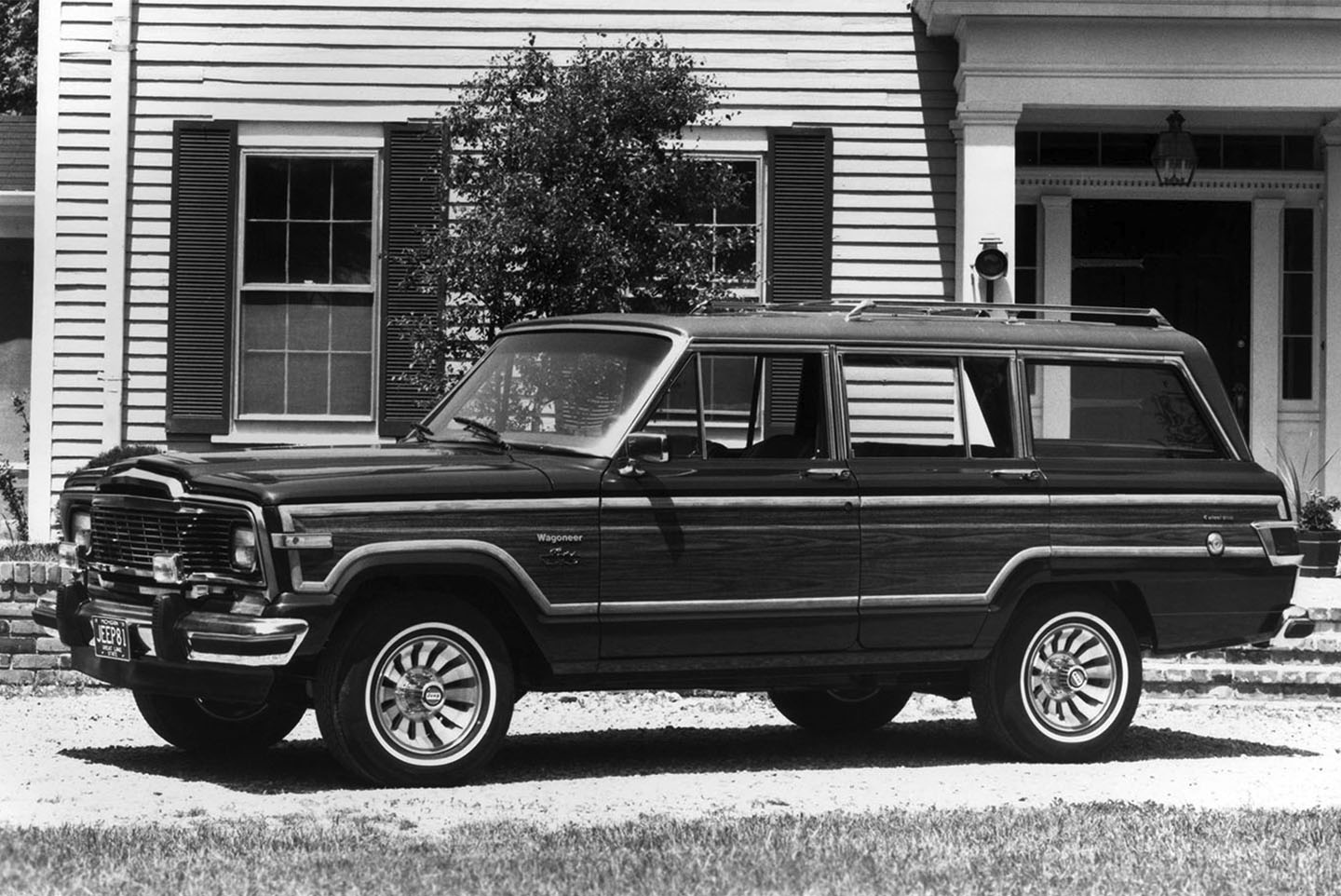 Things just kept getting better during the 1970s. In 1970, American Motors Corporation (AMC) acquired the Kaiser Jeep Corporation and set about building upon its successes. One product of these efforts was the Wagoneer Limited (1978-1979), a vehicle regarded as the successor to the Super Wagoneer and the most opulent 4×4 to date. So much so that Road & Track magazine described it as "the champagne of four-wheel drives." Discerning drivers had yet another reason to celebrate.
1983 – Full-size luxury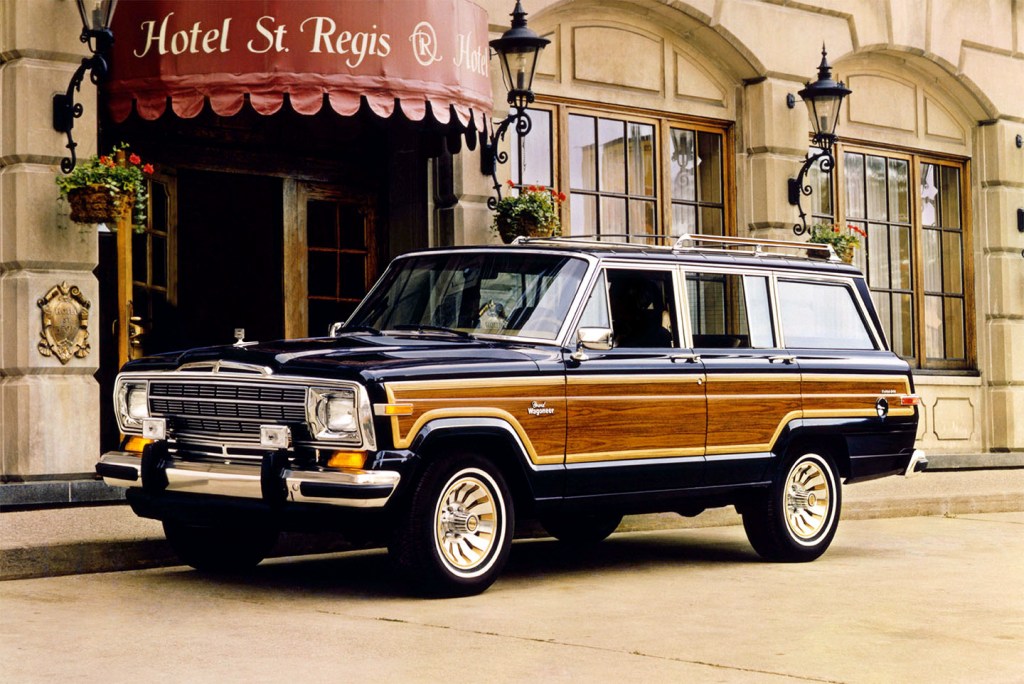 The next decade saw another significant development when the Wagoneer took on a smaller frame, to be shared with the Jeep Cherokee, and its full-size version was reborn as the bold and beautiful Grand Wagoneer. This was cosseting and capability on an altogether grander scale, offering buyers the "gold standard" of luxury SUVs during its 1984-1991 model-year lifespan. First AMC then new owner Chrysler added a series of enhancements such as a modernized interior with headrests, an overhead console with map-lights, improved climate control, an electric sunroof and keyless entry. Perhaps not surprisingly, the Grand Wagoneer is seen by many to be the best of all Wagoneers produced over the course of a near 30-year production run.
1991 – Goodbye, but not farewell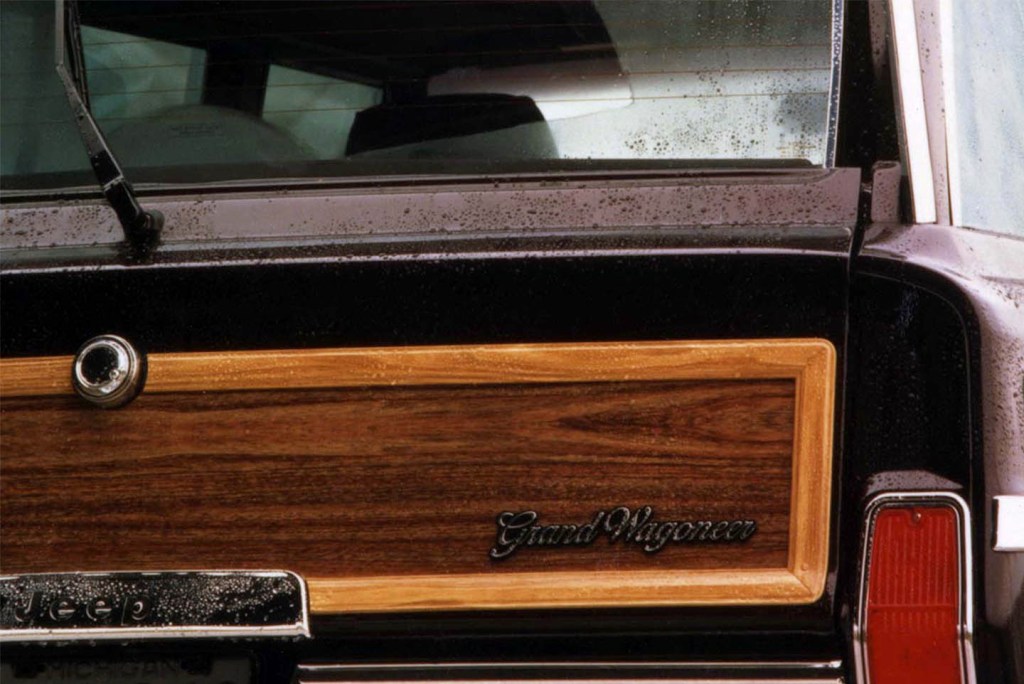 Wagoneer and Grand Wagoneer seemed to reach the end of their journeys in 1991, partly as a result of rising gas prices and a changing economy. The last models were made available with a "Final Edition" badge on the dashboard and, with that, a golden era came to a dignified close. Testament to America's deep affection for the vehicles, bygone Wagoneers and Grand Wagoneers are highly sought after by classic car collectors, and support an enthusiastic industry in renovation and repair.
1992 – A cameo appearance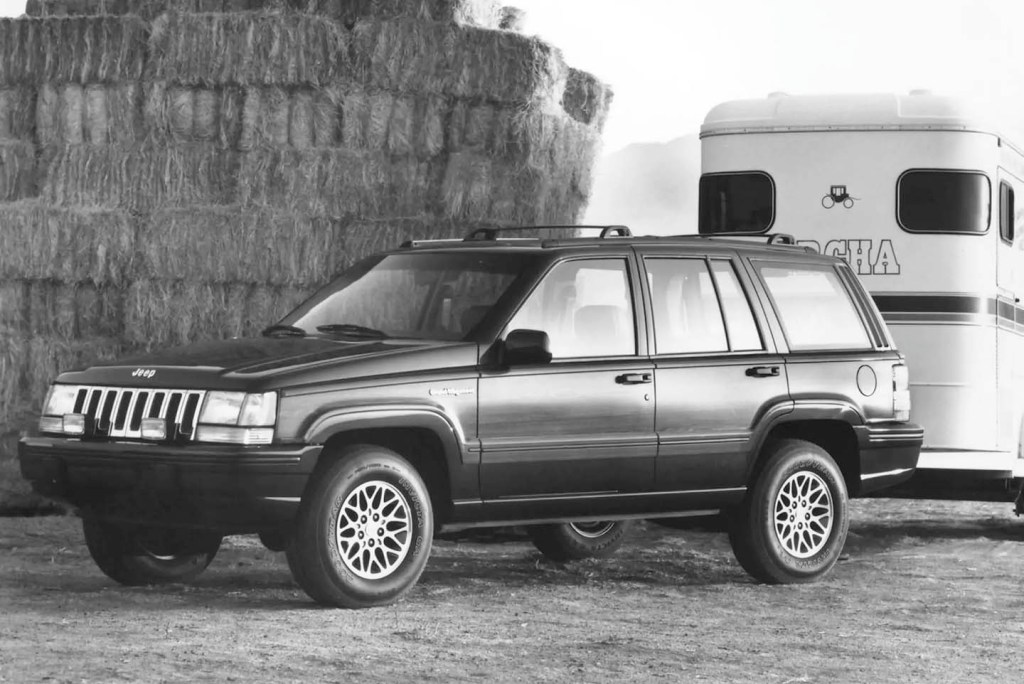 Although manufacture of the Wagoneer had ended, the name lived on, briefly, as the Grand Wagoneer ZJ. A top-of-the-line version of the Grand Cherokee, it was offered for the 1993 model year only, and is a rare vehicle indeed.
2021 – An icon returns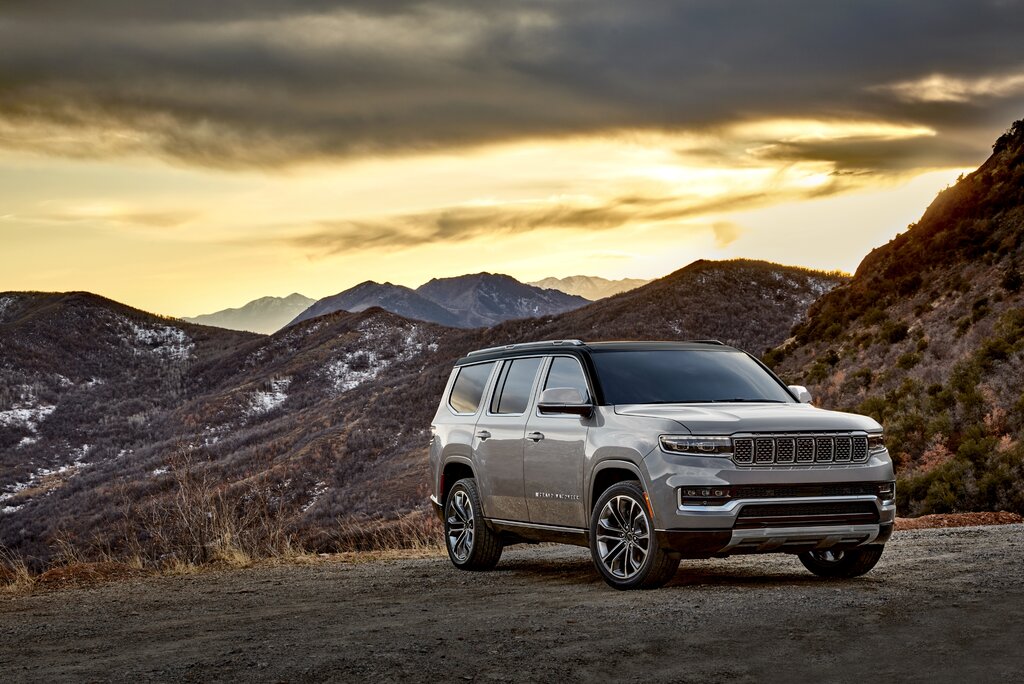 After years away, the legendary SUV has returned in spectacular style. A glittering reveal of the all-new 2022 Wagoneer and Grand Wagoneer marked an eagerly awaited reentrance to the premium segment with a breathtaking example of what American luxury now means.
Designed to delight in every department, Wagoneer and Grand Wagoneer blend rich heritage with contemporary design, top-end amenities and forward-thinking technology.
Starting with the exterior, these vehicles catch the eye with features such as the available tri-pane panoramic sunroof, finely detailed grille and elegant lines throughout.
Inside, driver and passengers are seated within an abundance of space, comfort and functionality. The front-row passenger, for example, can use the available co-pilot screen to set and swipe navigation over to the driver, then – courtesy of Amazon Fire TV1 for Auto – pick up watching the TV show they were viewing at home. Some 45 inches of total display span the instrument panel while the Grand Wagoneer offers occupants up to 75 inches of total display across seven screens.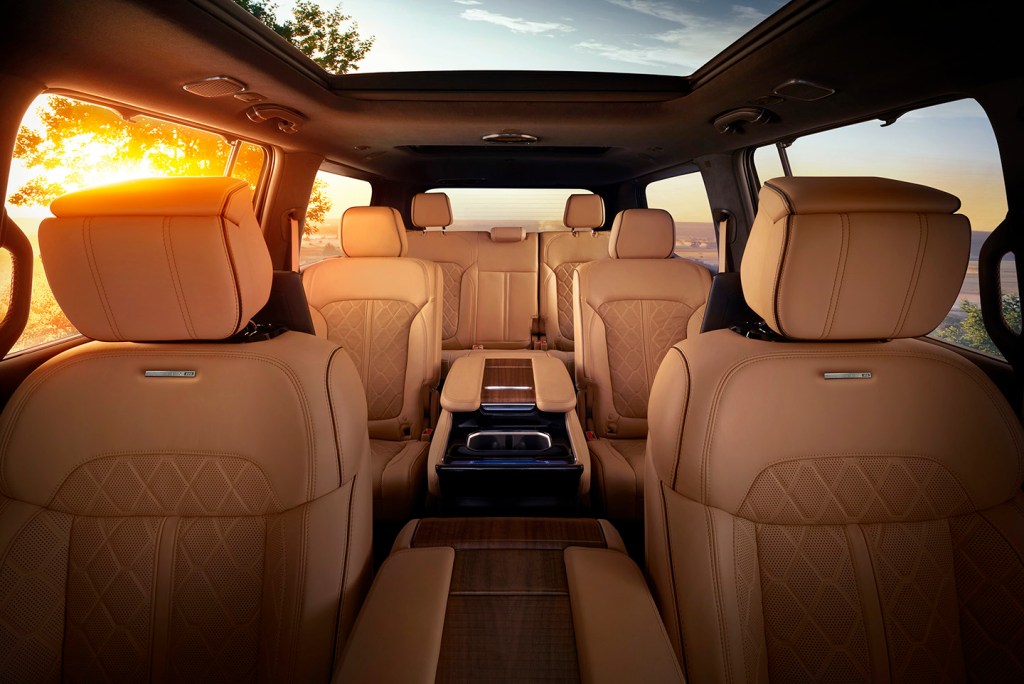 Three rows come as standard in both models and each row has been crafted with meticulous attention to detail. From the available 24-way adjustable front seats with massage, on Grand Wagoneer, to quilted Palermo leather trim and an available immersive McIntosh® Audio system, this is a thoroughly rewarding automotive experience.
Wagoneers wouldn't be true to their roots without ultimate off-road credentials, of course, and the available five modes of Selec-Terrain® Traction Management, three Quadra-Drive® 4×4 systems and Quadra-Lift® Air Suspension provide confidence and performance in a variety of settings.
Available Quadra-Lift Air Suspension, for one, raises total ground clearance to 10 inches, offers 24 inches of water fording and, coupled with the available ParkView® Rear Back Up Camera2 with hitch zoom and lineup assist, facilitates a seamless lift-and-lower trailer-hitching process for outdoor adventures.
In addition to the marvel of the vehicles themselves, Wagoneer buyers are treated to a suite of owner perks and privileges. Encompassing personalized service from Certified Wagoneer Ambassadors at the dealership, remote offerings including purchase delivery and service pickup, and the likes of vehicle health monitoring and 24/7 customer concierge, there's VIP treatment at every turn.
Experience Wagoneer
The all-new 2022 Wagoneer and Grand Wagoneer will be available through certified Wagoneer dealerships and remote showrooms this summer. To be among the first to experience all they have to offer, sign up for updates and reserve your vehicle at Jeep.com.
Facts for the ride
The game-changing Wagoneer replaced the Willys Motors utility station wagon lines, following the rise of the leisure vehicle in the 1950s.
Arriving in 1973, the revolutionary Quadra-Trac® 4×4 system was made available in full-size Jeep brand trucks and Wagoneers, as well as the later Jeep CJ-7.
A wood-grain appliqué provided the distinctive wood-paneled look so adored by Wagoneer drivers.
For model years 1984 to 1990, the Wagoneer was an upmarket version of the Jeep Cherokee and was offered in two trim levels: Wagoneer and Wagoneer Limited. Each could be distinguished from the Cherokee by its four headlamps, while the Limited also sported vinyl wood-side trim.
The Grand Wagoneer was one of the last vehicles sold in North America with a carburetor.
All-new 2022 Wagoneer and Grand Wagoneer are brimming with tech for a new generation, such as the available relaxation mode that enables the driver to park and settle down to watch campfire flames light up the screens before them.