You can't turn on the news these days without hearing something about the polar vortex. It's not confined to just the weathercasters talking about it anymore—it's everywhere. And when I see those poor newscasters out there in the cold, reporting about it…well, I realize it's their job, but I still feel bad for them.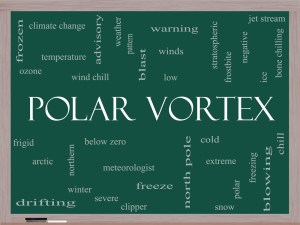 But, in plain English, what IS this thing they call the polar vortex? Very simply put, the North Pole is having a heat wave and that cold air has to go somewhere, so here it is. Lucky Santa. (Can't you just envision him up there, basking in the sunshine as he enjoys his "stay-cation," kicking back and holding a drink with a little umbrella in it?) And here we are, figuring out how to deal with snow days and frigid temperatures. Lucky us.
So, how do you beat the polar vortex? If you Google it, there are about 20 million very creative ideas—many not overly realistic and most not very helpful. However, what about escaping the cold by pulling out some pillows and blankets, turning off the television and re-instituting family game night on the living room floor? Or move the table out of the way, spread out some blankets and turn dinner into a family picnic, minus the ants. Or turn the kitchen into a smaller, family version of Cupcake Wars.
Realistically, though, we can't stay indoors 100 percent of the time. There's silly little things like, oh, I don't know…work? And staying cooped up is a fast track to some serious cabin fever for the whole family. So, when it's time to get out in the sub-zero temperatures, simple logic comes into play—dress in layers, wear a coat (YES, people STILL have to be reminded of this, believe it or not!), keep blankets in your vehicle, etc.
If you're in the market for a new vehicle, wouldn't a heated steering wheel and heated seats be nice to fight off the winter chill? And I'm not just talking about heated front seats—the passengers in the back need to stay warm too! Did you know those all come standard on the Jeep Grand Cherokee Limited? Or, if you want something sportier, they're also standard features on the Dodge Charger SXT Plus. Both automobiles are fun to drive, they'll keep everyone traveling nice and warm, and what better way to fight off the winter blues that with a shiny new vehicle in the driveway?
You can apply for financing online, from the warmth of your own home, right now!  Chrysler Capital's online application is quick and easy and you'll have your results in just a few seconds.