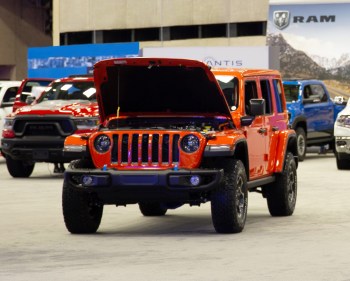 I recently had the best workday of my career. I picked up an assignment to go to the North Texas Auto Show in Dallas. It turns out I'm a lot luckier than I thought, because going to an auto show for work is just awesome.
I didn't know what to expect when I got there, but the staff was very helpful in getting my media credentials scanned. Then I was left to roam the auto show before anyone from the public could get in.
The first thing I saw as I walked into the showroom floor were the lights sparkling off all the cars. By the time my eyes focused on the vehicles, the orange Jeep® Wrangler Rubicon 4xe caught and kept my eye. This Wrangler looked hot with its Punk'n Orange paint. It had blue accents that reminded me of my fire pit I have in the back yard. My wife drives a Wrangler and it's one of the best cars we've ever owned, so I took a bunch of pictures to share when I got home.
Shortly afterward, I bumped into a couple of colleagues of mine and we went to check out the new Dodge Hornet. It was far more spacious than I thought it would be and it had some sleek finishes on the inside. I really loved the Hornet badging on the side of the car too.
The next vehicle I was excited to check out was the Grand Wagoneer Series III. This SUV looked incredible. It was white with tinted windows. I opened the driver's side door to climb in and was pleased to see a running board automatically lower for me. I spent an embarrassing few minutes giddy about this feature and I opened and closed the door several times to watch it.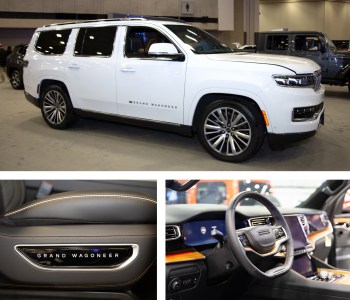 The interior was striking. From the woodgrain paneling to the stitching on the beautiful leather-trim seats, this vehicle was luxurious and it felt great just sitting in it. There was so much space inside that I know my whole family could ride in it and be comfortable. The panoramic sunroof was also a nice feature. I'm a reasonably tall person at six feet, but I felt like I had all the space I needed for a long road trip. This SUV was by far the nicest vehicle I'd ever sat in.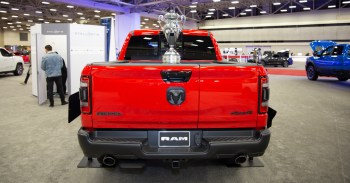 After I was pulled away from the Grand Wagoneer by my coworkers, I was struck by the red Ram 1500 Rebel that was nearby. One of the reasons the Rebel stood out was because it had a huge sign on it that said Truck of Texas and it had a huge silver trophy in the bed of the truck.
I'm not normally a truck guy, but this Rebel was nice. It was spacious inside, the bed was big enough for any household project I could think of doing and the body design and Flame Red paint were awesome.
After I checked out the truck, I wandered around the auto show for a while. While my work team went to check out the EV Test Track, I wandered over to the miniature golf course. It was a normal miniature golf course, but I really appreciated that it was there. I walked back to the test track to meet up with my team, some of whom had opted to check out the restaurant kiosk.
I've never been to an auto show before, but next year, I'm for sure bringing my family to the North Texas Auto Show. I had no idea how much fun they could be. I would encourage you to look in your own cities to see if there's an event coming sometime soon. Or you could visit the Auto Shows of North America website to see what's going on in your area. I had an amazing time at mine.