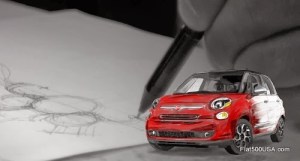 I've been looking for an idea to write a piece about FIAT®. But I wasn't looking for just anything. It had to be the "right" thing. FIAT® is unique. It's different. When I see one on the road, amongst all the trucks and SUVs, it makes me smile.
And suddenly, there it was—the story I was looking for. FIAT® was going to the LA Auto Show.
Big deal, right? Every major vehicle manufacturer has an exhibit at the LA Auto Show. But not like this one. Not like FIAT®. As part of their exhibit, FIAT® decided to paint a car. Not in the traditional way like you're thinking. Instead, FIAT® commissioned Italian artist Nicola Verlati to paint the ceiling of a FIAT® 500L over a six-day period, while lying on his back.
Never having painted while lying on his back for six days straight, Verlati's masterpiece pays tribute to elements of Michelangelo's infamous work on the ceiling of the Sistine Chapel. I think it goes without saying Verlati also never painted the inside of a car before. At an auto show. While being watched by any number of people wandering around and ducking down to look inside the car as he works.
The vehicle was equipped with a special floor and chair that allowed Verlati to lie back, turn and swivel as needed while he completed the project—something Michelangelo may well have appreciated in his day. Additionally, a specially coated fiberglass ceiling was installed to absorb the paint used by the artist.
Merging the newest member of the FIAT® family with the one of the most famous institutes of Italian culture made sense to those involved with the project. "The FIAT® brand is about immersing oneself in Italian style, design and culture," said Olivier Francois, Chief Marketing Officer, Chrysler Group LLC and Head of FIAT® Brand Worldwide. "We wanted to play with this concept by taking one of the most far-reaching pieces of old world art and combining it with the iconic new design of the FIAT® 500L."
Leave it to FIAT® to come up with an original idea to show off the roominess of their newest model, add in the artistic flair of an Italian masterpiece, and put it all on display at the LA Auto Show. Then play it off like just another day at the office. I wish I could merge two worlds and then casually stand back and watch them collide into a smashing piece of masterful, mobile artwork. THAT is talent.
To "meet" the artist, see more about how the vehicle was prepared and view time-lapse video as Verlati completes his work, go to http://www.fiat500usa.com/2013/11/fiat-recreates-masterpiece-at-la-auto.html.