The United States is a world-leading car manufacturer, home to some of the most loved and recognizable brands, producing over 9.1 million vehicles a year. The country's $82 billion automotive industry has also created a nation of car lovers.
In fact, it is thought that there are 290 million vehicles on U.S. roads. But when it comes to specific models and vehicle types, what brands and styles are piquing the nation's interest the most?
We analyzed Google search volume data for 119 models and popular types of vehicles to reveal the United States' most searched for rides.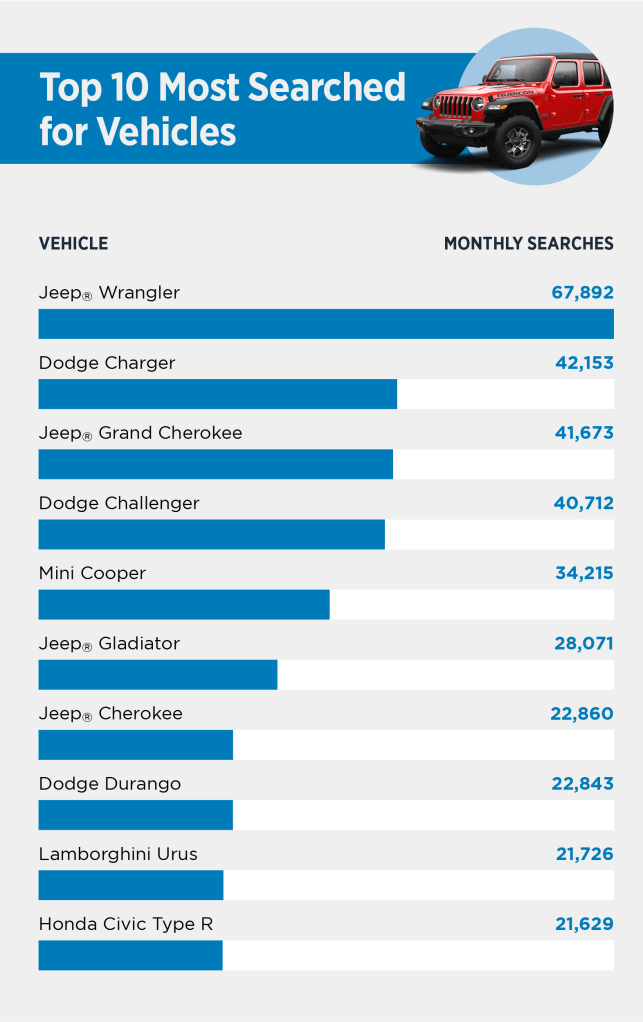 The top 10 most searched for vehicles
According to our data, the most searched vehicle in the U.S. is the Jeep® Wrangler, with 67,892 searches on average per month. Part of a brand that emerged in the 1940s, the Jeep Wrangler is a well-known and much-loved SUV that has grown in popularity over the years. The vehicle is currently available in both compact and mid-sized variations that together have seen annual U.S. sales top 200,000 in recent years.
The second most-searched vehicle, generating 42,153 monthly searches, is the Dodge Charger. This powerful muscle car has built up a devoted following of performance-vehicle enthusiasts across the country.
Jeep brand took the third most-searched for vehicle with another of its SUVs, the Jeep Grand Cherokee, which averaged over 41,000 searches per month.
Other popular models being searched for included the Dodge Charger's stablemate, the Dodge Challenger, along with the subcompact Mini Cooper, Jeep Gladiator truck, Jeep Cherokee and Dodge Durango SUVs, plus the Lamborghini Urus SUV and sporty Honda Civic Type R.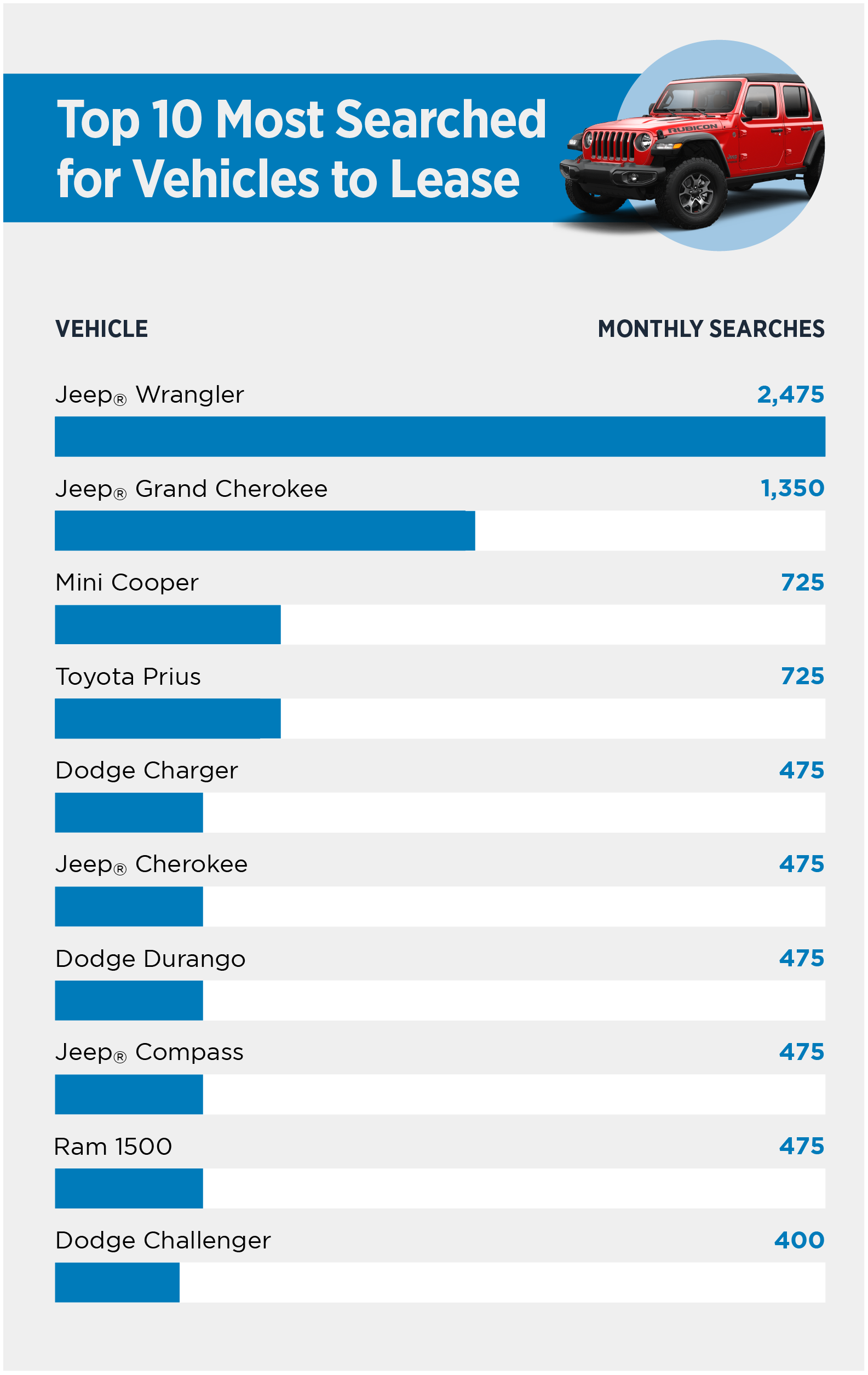 Top 10 most searched vehicle models to lease
There are many benefits to leasing a vehicle, from potentially lower upfront and monthly costs to the ease of changing vehicles so you can always drive the latest model. Millions of Americans drive a leased vehicle each year, but which models are they searching for most?
We analyzed the search volume for the term "[car model] lease," and, according to our data, the model that topped the list was yet again the Jeep Wrangler. It averaged 2,475 monthly searches and, together with the Jeep Grand Cherokee, with 1,350 searches a month, leads the pack.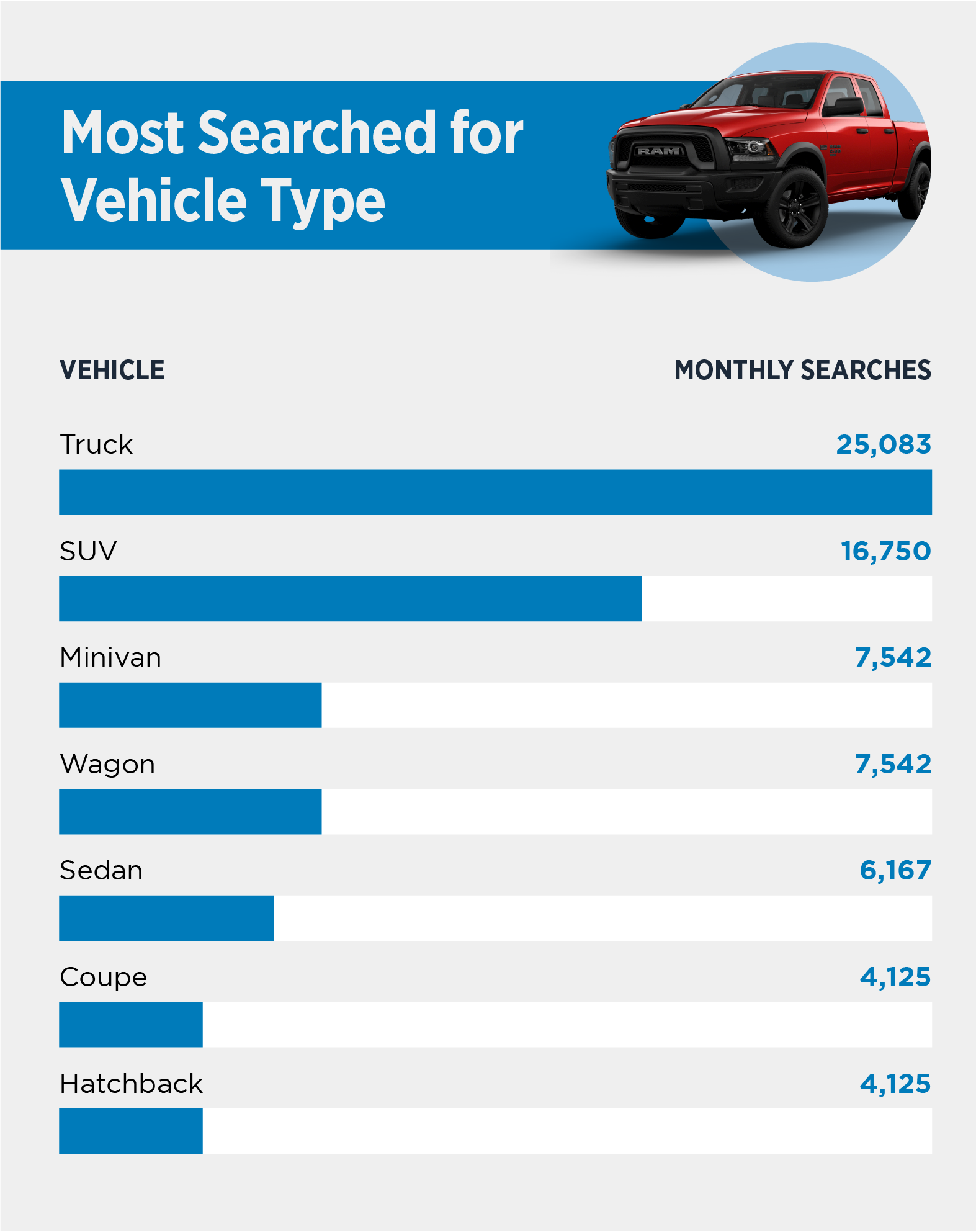 Most searched vehicle type
The U.S. is also a truck-loving nation, with sales of pickup trucks outnumbering those of cars, so it may be no surprise that trucks top the list when it comes to the most searched for vehicle type.
With 25,083 searches on average a month, trucks are nearly 50 percent more popular online than the second most popular vehicle type, SUVs. The least popular vehicle types were hatchbacks, coupes and sedans, generating an average volume of between 4,000 and 6,000 searches per month.
Methodology
A seed list of vehicles was compiled from articles by Topspeed, Car and Driver and Motor1, and Chrysler Capital's full vehicle database. Search volume for each term was pulled on 11.1.22.