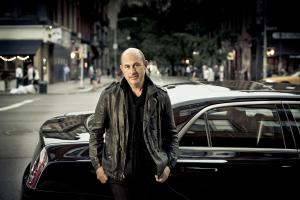 Do you have a favorite old, black leather jacket that when you slip into it just feels GOOD? It's perfectly broken in and fits like a glove, right? And that feeling when you put it on…it's a little bit rock star, a little edgy, maybe even a little gangster, but at the same time, a little like the comfort of home.
Now, put all that into a car and you have the Chrysler 300C John Varvatos Limited Edition, which will be returning for 2014.
"Our collaboration with John Varvatos created one of the most uniquely appointed and fastest-selling limited-edition Chrysler 300 models," said Al Gardner, President and CEO, Chrysler Brand, Chrysler Group LLC. "We received feedback from Chrysler and John Varvatos design fans asking us to do two things – build a second run of the ultimate 'Imported From Detroit' Chrysler 300 and offer it with our most intelligent AWD system. We listened and the Chrysler 300C John Varvatos Limited Edition is back."
Combining clean, elegant styling with an aggressive, Detroit-tough presence isn't easy, but somehow, Chrysler seems to make it seem like no big deal at all with this vehicle. Easily recognizable with its Phantom Black triple-coat exterior paint and subtle titanium finish, the John Varvatos 300C makes the ultimate in unique and stylish entrances. It's luxurious, menacing comfort at its best.
The new John Varvatos Limited Edition will be available with Chrysler's intelligent AWD system. This system features an active transfer case and front-axle disconnect. What does this mean in plain English? It means that the vehicle measures the conditions in which you are driving, and whether those conditions warrant the need for AWD technology. If so, the AWD engages. If not, the system disconnects the front axle and the vehicle reverts to a standard rear-wheel drive. This system not only ensures all-season capability with the AWD feature, but also best-in-class fuel economy through the disconnect technology. And all of this appears seamless to the driver. Could it get any better than that?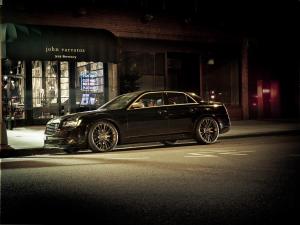 I'm glad you asked.
The power and fuel-efficiency of the 2014 Chrysler 300C John Varvatos Limited Edition have been further expanded by a world-class eight-speed automatic transmission that was previously only available in far more expensive premium imports. This transmission provides smoother shifting between gears and, when switched to "Sport" mode, a more performance-oriented acceleration.
I have to admit I'm not a huge fan of sedans. A few years back, I was converted to an SUV/truck kind of girl, and I would have thought you'd be hard-pressed to get me to go back. But this new Chrysler 300C…there's just something about it. I wish I could put my finger on it. The more I look at it, the more I like it. Maybe it's the bad-boy image. Maybe I'm beginning to appreciate the luxury of a sedan. Maybe it's simply because this vehicle ROCKS. In any case, the 2014 Chrysler 300C John Varvatos Limited certainly deserves a look.
Starting at a Manufacturer's Suggested Retail Price of  $45,475 (or $47,975 for the AWD version), the 2014 Chrysler 300C John Varvatos Limited Edition will arrive in dealerships beginning in March. Chrysler Capital wants to be your first choice in financing when you take your test drive. You can apply online before you even go to the dealership. Or, talk to your local dealer about leasing with Chrysler Capital.