Last Saturday, nearly 70,000 walkers lined up to march through the streets of downtown Dallas on a three-mile hike. What kind of event could cause such a ruckus? The Dallas Heart Walk, of course – and as part of Santander Consumer USA (SC), Chrysler Capital associates were right in the middle of it all.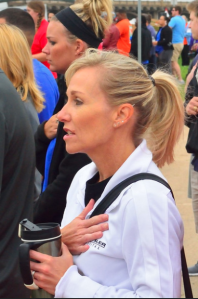 Touted as the largest Heart Walk in the country, the 2014 Dallas goal was $5.5 million. Current standings reflect over $5.2 million collected with donations still being collected.
Associates from five SC locations participated this year with an overall goal of $32,500. The Denver team participated in the Denver Heart Walk earlier this year when they rallied in June. The remaining four locations, Dallas-Stemmons, Thanksgiving Tower, Lewisville and North Richland Hills, were represented at the Dallas Heart Walk.
When all is said and done, SC will have nearly doubled its goal.
"The unofficial total at this time is $48,114.19," said Kate Gatlin, Corporate Communication Specialist. "That does not include some money that has been turned in at Thanksgiving Tower so we are probably closer to $50,000. I think that it is safe to say that we have far exceeded our goal."
But those are just the Dallas numbers. Add to that the $9,000 raised by the Denver office and total SC fundraising for the event will be nearly $60,000.
Creativity was key in the fundraising events this year. Rather than simply relying on donations from family and friends, associates rolled up their sleeves and pitched in:
During We are Santander week last summer, managers, directors and executives "volunteered" and were great sports as associates lined up to take aim in a tomatillo toss. (If you've never heard of this, think water balloons, but with juicy tomatoes instead.)
Rather than going out for breakfast or lunch, associates opted for grabbing homemade grub right there in the office with all proceeds donated to the Heart Walk. (See Chrysler Capital is where the heart is, posted August 22, 2014.)
Gift baskets were donated for a silent auction.
Many other fun and creative ideas were exercised to bring in additional funds.
In the end, it was a great day for a long walk with thousands of new friends, all in support of a worthy cause.
With plans already in the works to beat this year's collection efforts, 2015 looks to be off to a hearty start.