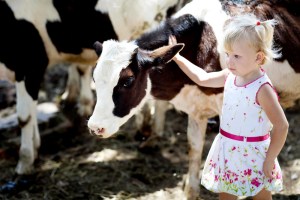 Growing up in America's heartland, my cousins were dairy farmers. I remember them getting up to do the milking before school, on Sundays before church and even on Christmas morning. Once, when I was little, Jack tried to explain to me that the cows didn't know the difference between Christmas and any other day. At the time, I just couldn't comprehend how that was possible.
Looking back, I can remember that conversation very clearly—a tall, dark-haired man with a kind smile and gentle eyes, looking down at a little blonde girl, staring up at him in wonder. I'm sure Jack had a good chuckle as he walked off to work on something, while I ran off to find some kittens or tell my grandmother about the cows…or both.
I live in the city now and my life is very different than it was back then. But when Ram Trucks aired their "Farmer" commercial during the Super Bowl last February, I was right back there on that farm, listening to my cousin Jack explain about the cows with wide eyes and disbelief. Whether it brings back the memories of childhood long since forgotten or prompts a fond smile or induces a small sigh, the "Farmer" commercial invokes a reaction.
Ram Trucks declared 2013 the "Year of the Farmer" and made a $1 million pledge to the National Future Farmers of America (FFA), based on online views of "Farmer." It took less than a week for America to meet Ram's challenge of 10 million views and maximize the $1 million pledge. Recently, at the National FFA Convention and Expo in Louisville, Kentucky, Reid Bigland, President and CEO Ram Truck Brand, Chrysler Group LLC, along with country music star (and FFA alum) Easton Corbin, presented a $1 million check to Clay Sapp, 2012-2013 National FFA President.
Thanksgiving is in a couple days and following that will be the hustle and bustle of the holidays. Soon it will be 2014 and Ram Trucks' Year of the Farmer will come to a close. It's not often that I aim to do the expected, but today, it feels like the right thing to do, so yes, I am going to close with some well-deserved notes of thanks.
Thank you to Ram Trucks for both the thought-provoking ad and for recognizing and supporting the nation's farmers and the FFA.
Thank you to the FFA, and all of the youth organizations like them, who instill strong values in America's future workforce and leaders, and believe in "the promise of better days through better ways" (from the FFA Creed).
Thank you to the farmers. The contributions you make to our country are vast and too numerous to mention. Know that you are appreciated.
And finally, thank you to my cousin Jack who, very gently delivered the crushing blow that cows don't understand the meaning of Christmas to an innocent, green-eyed little girl who still remembers 40 years later.