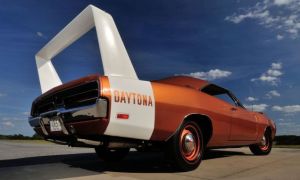 The year 1969 was memorable for many reasons:
The first Led Zeppelin album was released
Apollo 11 landed on the moon
The Godfather was published
The trial of the Chicago Eight began
The Brady Bunch aired its first episode
And that's just the tip of the iceberg.
It was a year for the history books for sure.
It was also the year Dodge built only 20 Daytonas with a 426 HEMI V8 combined with a four-speed manual transmission.
To say this vehicle is rare is an understatement. Finding this vehicle perfectly restored with less than 6,500 original miles is about as likely as stumbling on an albino alligator in your backyard. It just ain't gonna happen.
Well, those days back on the Gator Farm must have been good for ol' Joe Dirt because David Spade has found his white alligator. With the record-high bid of $900,000, Spade is the proud owner of his very own "un-findable" piece of American history.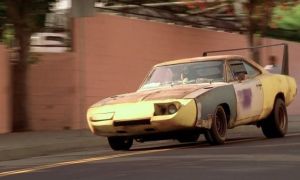 What makes this car so special, you ask? Did you mean OTHER than the fact that there were only 20 made? Or, in the case of this one in particular, the fact that it only has 6,435 original miles on the engine? Or, that it has been perfectly restored? Maybe the better question is what ISN'T special about it?
Okay, so it is a bit odd-looking and back in 1969 it wasn't an easy-sell on the showroom floor. But it wasn't built to impress the average car shopper. The aerodynamic appeal of its beaked nose along with its rear wing spoiler was meant to dominate on the racetrack. And it did. So much so that, in 1971, NASCAR banned "winged cars."
Did working on Joe Dirt 2 make Spade nostalgic for his days of riding in Joe's beat up, fake Daytona? If he was looking for an upgrade, he certainly found one.
My only question is will he bring back the mullet every time he takes it out for a spin?