Cars.com recently released a list of its editor's picks for the top 10 most improved vehicles from the past 15 years. Topping the list in first and second place, respectively, are the 2013 Dodge Dart and the 2011 Jeep® Grand Cherokee.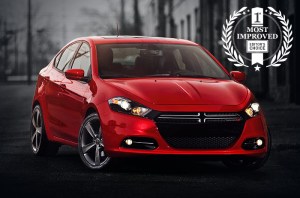 "Sometimes changes to these cars were as simple as a fresh interior and new parts under the hood, and sometimes the outgoing model of a car was so poor that automakers gave the new version an all-new name," said Patrick Olsen, Cars.com editor-in-chief. "Our list includes cars that nailed the redesigns and are good options for a variety of car shoppers."
So, why did the 2013 Dodge Dart top the list? What's so great about this car? When the decision was made to retire the Dodge Caliber and resurrect the Dodge Dart, there was a lot of pre-release hype. Talk about pressure! It's already tough enough being the semi-new kid on the block and everyone knows nothing ever lives up to its hype. Or does it? Here's what Digitaltrends.com had to say about it:
"There's no denying the 2013 Dodge Dart has a lot of character, both inside and out. It looks sharp and has the personality of a wise-cracking mobster, only less obnoxious. Chrysler has continually talked up the Dart's 'Alfa-DNA,' and while we admittedly brushed it off as nothing more than hyperbole, this is one instance where an automaker wasn't just blowing smoke up our tailpipe."
High consumer ratings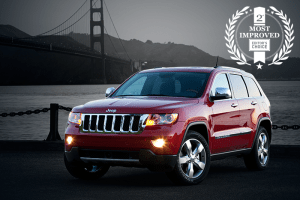 Consumer ratings so far this year are just as strong, earning solid 4.5 out of 5-star rankings on both Cars.com and Edmunds.com.
Dodge definitely lived up to the hype on this one, and for once, instead of compromising, you have a vehicle that offers you fuel efficiency, safety and handling all in one. Oh—and it looks good too. All this at a starting MSRP of $15,995, it is no wonder that the editors at Cars.com have it at the top of their minds.
While the 2013 Dodge Dart holds steady at the top spot, it's older "cousin," the 2011 Jeep® Grand Cherokee stands firmly right behind it. Model year 2011 saw a complete redesign for the Grand Cherokee, not only giving it a total face lift, but also a roomier, more comfortable design and an all-independent suspension for better handling and an easy ride. Already a solid performer in the Jeep® lineup, this redesign took the Grand Cherokee to a new level of "sophisticated ruggedness" that Jeep® pulled off with seemingly no effort whatsoever.
Chrysler Capital is making it easier than ever to get pre-approved financing so you know what to expect before you go to the dealership. Whether you're interested in the Dart or the Grand Cherokee, or any of the Dodge or Jeep® lineup of vehicles, save yourself time by applying for a loan or lease online. Print your results and take them to the dealership with you!
Here's a full list of vehicles within the Cars.com most improved run-down.