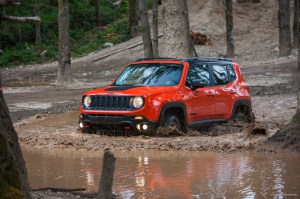 Kickin' up dirt and makin' a name for itself once again, Jeep® Renegade was recently named Northwest Outdoor Activity Vehicle of the Year by the Northwest Automotive Press Association (NWAPA). And it didn't stop there. Renegade also took the top spot in the Compact Utility category.
Twenty-one years and going strong, NWAPA's Mudfest is a two-day test of each vehicle's ability on both paved and off-road surfaces. Performing slalom and braking tests on a sealed, smooth surface before moving on to more rugged terrain, 20 NWAPA journalists put 27 different vehicles from 21 different manufacturers through their paces. FCA entered four vehicles in four different categories, taking top honors in each:
2015 Jeep Renegade – Northwest Outdoor Activity Vehicle of the Year and winner of Compact Utility category
2015 Jeep Cherokee – winner of Family Utility class
2015 Ram 1500 EcoDiesel – winner of Pickups category
2015 Ram Power Wagon – winner of Extreme Capability class
"This annual competition sets the bar for outdoor activity vehicle buyers in not only the Northwest, but the entire country," said Nik Miles, president of NWAPA.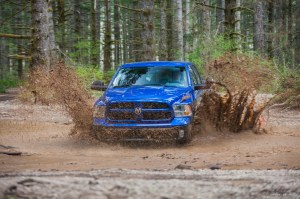 "The journalists push vehicles to their limits; this competition is not for the meek and faint of heart. FCA came to the table ready for a tough fight and they played rough and tough, driving away with a trunk full of trophies."
While holding their own to win against some tough competition in their respective categories was no easy feat for each of the FCA vehicles entered, it was the Jeep Renegade that really blew away the competition.
"Following two days of extensive testing, I think it's clear that Jeep has something special with the new Renegade Trailhawk," said Ryan Douthit, co-chair of the event. "Don't let its size fool you: this is one capable little machine. Even though it did extremely well in our sealed-surface slalom and braking tests, it was the smallest Jeep's remarkable off-road abilities that really impressed our members."