There are moments when a second seems like an eternity. Then there are times when it's gone by so fast you could swear you've barely blinked. How often can you say you've experienced both in the same night? I can tell you without a doubt that anyone attending the Ram National Circuit Finals Rodeo on Saturday night most certainly did.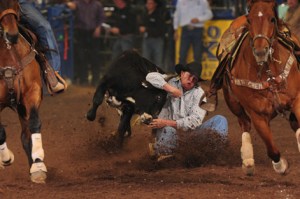 At 3.3 seconds, it seems like Kyle Irwin was barely out of the gate before he had his steer wrestled to the ground. It's a good thing I didn't reach for my camera (or blink, for that matter) because I would have missed him altogether. When asked how he felt about his time, he smiled and said, "It's nothing to be ashamed of." Given that he tied the event record, I'd say this is a bit of an understatement, but we'll go with that.
The chutes were also opening strong for a pair of ropers from Colorado. When they qualified for the top eight with an average time of 10.2 seconds, were Ty Blasingame and J.W. Borrego just holding back, waiting to surprise everyone? If so, they certain got people's attention when they shaved that time down to 4.6 seconds in the semifinals to qualify for the final round. And with a breakneck time of 3.9 seconds, they came out of nowhere and took the title.
I was really looking forward to the barrel racing competition and it proved to be everything I had hoped. Only 0.32 seconds separated first and fourth place. Gretchen Benbenek raced for the first place position, after having already competed twice earlier in the day. I didn't find this out until much later and I never would have guessed as I watched her and her horse race for the championship. They were definitely in it to win it.
Bull riding is a highlight of any rodeo and the Ram National Circuit Finals Rodeo of course did not disappoint. There were plenty of big names to watch emerging from the qualifying rounds, but Parker Breding came out of nowhere and, after taking a couple weeks off from riding, he was ready to take on some of the toughest bulls to win the title.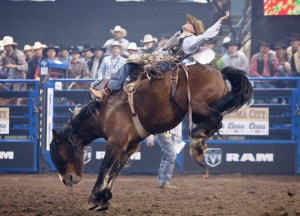 If the measure of a championship competition is how evenly matched the competitors are, this was a championship to end all competitions. Three of the finals competitions ended in a tie and scores from the qualifying, semifinal rounds had to be used as the tiebreakers. Generally, in the semifinal round, you're competing to qualify for the finals, not to win. But when the competition is so tight, both can be true.
Bareback riding ended in a three-way tie between Caleb Bennett, Bobby Mote and Joe Gunderson. All three riders scored 84 points on their final ride. Bennett also scored an 84 in his semifinal ride and was named the national champion.
Saddle bronc riding ended with a tie between Cody Wright and Jacobs Crawley, with 83 points each. In the end, Crawley was named the national champion after scoring 79 points in the semifinals.
Josh Peek and Jerome Schneeberger both clocked a time of 7.7 seconds in the tie-down roping competition. But in the semifinals, Peek recorded the faster time at 8.4 seconds, lassoing him the national championship title.
In addition to the winnings they earned for each round, the semifinals and the finals, each national champion also receives a $20,000 voucher toward a new Ram truck, a Montana Silversmith's buckle, boots and a saddle.
All in all, it was a great three days of events. Congratulations to all of the athletes on their performances throughout the weekend. Win, lose or draw, it takes a tremendous amount of skill, athletic ability and just straight-up guts to get out there and do what they do.