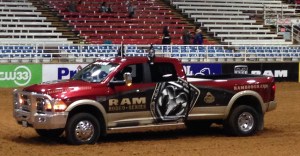 When I got the idea to write a series about rodeos, I thought, "How tough can this be?" I mean, talk about exciting! Buckin' broncos and bull ridin' and barrel racin'. Throw in the fact that the events I'll be attending are all sponsored by RAM Trucks and I'm good to go, right? This was going to be FUN!
During the holidays, there was a ProRodeo event at the Mesquite Arena and off I went to experience my first RAM Rodeo as a blogger. (Living in Texas, I think some people assume that we go to these kinds of things frequently, but in truth, it had been years since I had been.) I walked in confident that I was going to walk out with my "big story."
HA! How naïve am I? What I DID walk out knowing was that I have so much to study!
I'm a big sports fan to begin with so I thought this was going to be easy, but it's definitely nothing like football. There is a lot to learn—such as the language. Holy cow! I'm used to speaking all the different lingoes that go with the auto finance world, but this rodeo thing is going to take me a minute or two. (A "hooey" is a type of knot? Really? Okay…I'm working on it.)
Then there is the scoring. I listened intently, but I never did get it figured out. On the timed events, I thought I had it. Those are pretty straightforward. But then something would happen where additional time would be added to a contestants score and for the life of me I couldn't figure out why. I didn't even begin to figure out the scoring on the Roughstock events. The judges have to score both the contestant's and the animal's efforts, and I just can't imagine how they do that. At least not yet. These are all things I plan to learn.
One thing I did discover is that what I was incorrectly referring to as "circuits" are actually the rodeo associations and there are a lot of them. The largest is the Professional Rodeo Cowboys Association (PRCA). Well-known, smaller associations include the International Professional Rodeo Association (IPRA) and the Women's Professional Rodeo Association (WPRA), but this doesn't even begin to scratch the surface of the more than 300 international, national, state, collegiate and high school associations out there, all regularly contributing to the sport.
Something that is impossible for even the most novice of attendees to miss is the athleticism of the contestants. They may not spend hours on end in the gym or run eight miles a day, but make no mistake—the men and women competing in rodeo events are athletes. And the animals they ride are absolutely beautiful.
In the weeks and months to come I will learn a great deal more about this sport and with any luck at all maybe even meet a contestant or two. If you would like to see some of the pictures or video I captured, you can visit my Google+ page—hopefully my photography skills will improve along with my knowledge.
Thank you, RAM Rodeo and RAM Trucks for making all this possible! Your sponsorship does not go unnoticed or unappreciated!