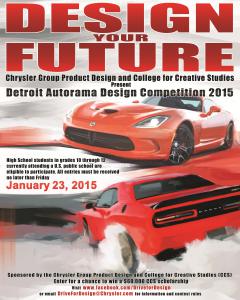 It was a great day to be Joshua Blundo from Moultonborough, New Hampshire, and March 6, 2015, is likely a day he will never forget. Why? Because it was the day he won a $60,000 scholarship for doodling a car on a piece of paper.
Okay, so maybe it was a bit more than a simple "doodle."
Perhaps you recall Ready, set, draw! Design the new generation of Dodge from last November, when I told you about the Design your Future competition, sponsored by Fiat Chrysler Automobiles (FCA) and the College for Creative Studies (CCS). Hopefully if you intended to enter you're not smacking yourself in the head now, because the deadline was January 23, 2015, and the judges have spoken. They picked Joshua's design.
As the judges analyzed sketches, they were looking for far more than just four tires and a Dodge badge. They wanted to feel the artist's passion for cars come through in the design and see where that passion pushed their creativity from an aesthetic standpoint.
Joshua's passion for cars started when he was a freshman in high school and has grown from there. While he doesn't consider himself a natural-born artist, his submitted design tends to prove differently, but then, typically we are our own worst critics.
A former winner of the design contest, Mark Trostle, now head of SRT, Mopar and Motorsports Design at FCA US LLC, was anxious to bring the contest back. Three years ago, he reintroduced it locally, in the Detroit area and has watched it flourish into a coast-to-coast competition.
"It's been exciting to see this competition grow from a local level to now reaching students from all across the nation," said Trostle. "Partnering with CCS and Detroit Autorama gave us the exposure needed to attract young, creative minds and hopefully inspire them to explore automotive design as a potential career."
A total of four winners were recognized for their talents:
First place – Joshua Blundo, a senior at Moultonborough Academy in Moultonborough, New Hampshire
Second place – Conner Stormer, a senior at Stoney Creek High School in Rochester Hills, Michigan
Third place – Hwanseong Jang, a junior at Bloomfield Hills High School in Bloomfield Hills, Michigan
Fourth place – Dongwon Kim, a senior at Homestead High School in Sunnydale, California
Congratulations to all the winners and good luck with your future endeavors!