Has this ever happened to you?
You're late. The alarm didn't go off, you spilled coffee on your shirt and had to change. The kids were slow to get out of bed. Topping it all off, your car's fuel light came on and you don't have time to stop.
We've all been there. But this time is different. This time Booster Fuels is available to save the day.
What is Booster Fuels? Good question. Put simply, as they describe themselves on their website, "Booster provides on-demand fuel service while you work."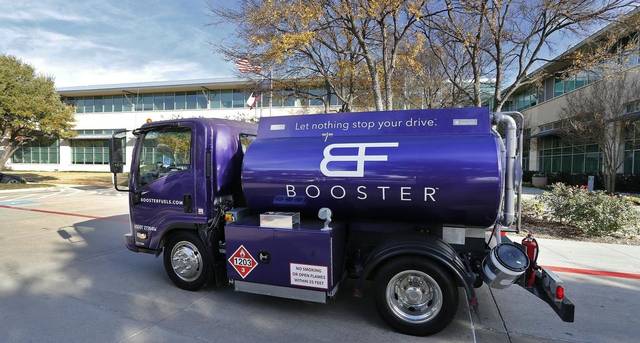 Yes, it's true. Booster Fuels has developed an app through which you can order an on-site fill-up when your vehicle's gas tank is running low. When you notify them where your vehicle is, when you want service and what kind of fuel you use in your vehicle, they take care of the rest. (Just make sure to leave your fuel door unlocked.)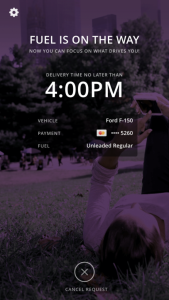 My first thought was this must be expensive. But there are times when I don't want the aroma of Eau de Gasoline on my hands. Or I've overscheduled my day and I just don't have an extra 15 minutes to stop when my low fuel indicator light wants me to. In those instances, it would be worth the extra cash required for such a premium service.
But Booster Fuels doesn't cost extra. Oh. My. Goodness. I don't know how they do it. Quite frankly, I'm not going to ask. But their fuel prices are comparable with what you'd pay at the pump and they don't have a surcharge. Convenience AND a reasonable price? Sign me up!
Unfortunately, there are a few things that prevent their service from being widely available. First, Booster trucks must have permission to enter a property. Second, as with any business, keeping the cost to consumer low is commensurate with keeping overhead low.
To overcome such obstacles, Booster Fuels' goal is to build partnerships with major employers. While the company employees get the perk of on-demand fuel service at work, Booster Fuels gains permission to access the property as well as a large customer base within a relatively small radius.
Currently, Booster Fuels is only offered in parts of the Dallas-Fort Worth and San Francisco areas. But according to John Parker, the company's head of operations and growth, more U.S. cities are part of an aggressive expansion plan.