For some, it's church. For others, it's sports. For the men and women of Furious7, it's cars.
No matter how it begins, in the end it's a community. Family.
After watching all of the Fast & Furious installments last weekend (yes, that's 13 hours and 52 minutes of Fast & Furious all wrapped up in about 32 hours), I was surprised how attached I got to each of the characters.
Not typically much of a movie watcher, I actually found myself rooting for each one of them, as if it were Sunday afternoon football and the Bears were playing. I was completely drawn into their community…into their family.
Like me, prior to last weekend, people who have never seen them think the Fast & Furious movies are about cars. Yes, the cars are an integral part of the cast and in some ways they help define the characters, but cars are not what the movies are about.
Camaraderie. Community. Loyalty. Friendship. Family.
These are what the movies are about. Peel away the plot twists, the car races and chases and all the special effects that make them over-the-top spectacular and you've got the underlying reasons that keep people coming back.
At the Los Angeles premier of Furious7, Vin Diesel spoke to the crowd. His remarks were specific to the seventh installment of the franchise and the events that lead up to the final version of the film. But they could easily apply to the saga as a whole: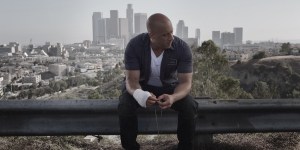 "This movie is more than a movie, I've said. You'll feel it when you see it. There is something emotional that happens to you, where you walk out of this movie and you appreciate everyone you love 'cause you just never know when the last day is that they're gonna be there."
-Vin Diesel
I was apprehensive, yet woefully curious about seeing Furious7, after having watched the first six. I knew Paul Walker's character, Brian O'Conner, wasn't going to die, but a sappy walk off into the sunset wasn't going to cut it. Not when he survives parachuting cars, a bus falling off a cliff, flying between buildings in a car and the car pool lane at his son's school.
Instead, like each installment of the Fast & Furious saga, it is a perfectly fitting end that leaves you ready for more.