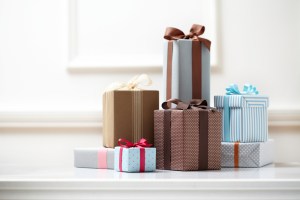 The holiday gift-giving season has arrived and if any of you are anything like me, you've got at least one person on your list with question marks beside his/her name. It's true. We all have people who either go out and buy whatever they want, leaving nothing for family and friends to get for them, or folks who just never really mention anything they like or want.
Gift ideas can come from anywhere. For example, the Jeep® owner who takes weekend excursions probably has some great stories. Journals require no batteries or electricity and very little space in a backpack or glove box. They're a great way to record a memory with a few words or a drawing at a moment's notice and Jeep Gear has several great styles for the most die-hard Jeep enthusiasts. Visit http://www.gear.jeep.com/dept_prod.asp to view the available selection. But don't go thinking all they have are journals. When you log in, there is a ton of cool Jeep Gear to choose from, so pick something out for yourself while you're there. I did!
Maybe the hard-to-buy-for person on your list is a classic car enthusiast. Timeless model cars are the next best thing when you don't have Jay Leno's garage space (or bank roll) and don't have the room to own a fleet of your own. Check out the '57 Chrysler 300C and the '58 New Yorker on the Chrysler website at http://www.ifdstore.com/welcome.asp. And for the die-cast collector, Dodge has several available at http://www.life.dodge.com/welcome.asp.
For those of you who enjoy photography and/or coffee table books, "The Farmer in All of Us: An American Portrait" is a beautiful collection of photographs and text, published by National Geographic. It also features Paul Harvey's speech, "So God Made a Farmer." It's available on the Ram Truck website at http://www.outfitter.ramtrucks.com/welcome.asp. And, if the gift recipient on your list is simply a Ram Truck fanatic, there are plenty of other gift options from which to choose.
Do you have people on your list that like anything that's fun, funky and unique? What about you? (Hey…just because its December doesn't mean you can't shop for yourself too!) Visit http://www.e-store.fiatusa.com/welcome.asp. The FIAT® merchandise is great! There's a wireless mouse that looks like a FIAT 500 and a tote bag designed with a vintage photograph of some people enjoying a day at the lake—perfect for forgetting about this year's winter weather. They have mugs and tumblers and pens and, of course, a large selection of apparel that's just FUN.
Regardless of whether you're shopping for people on your gift list or sneaking in something special for yourself, the Chrysler, Jeep, Dodge, Ram and FIAT merchandise websites have some fantastic options. They may not seem like the most natural place to shop, but sometimes the BEST "finds" come from the most unexpected places.