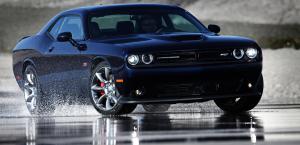 Vehicles can be known for a lot of things. They can look great. They can get fantastic gas mileage. Fast, luxurious, powerful, hard-working…all of these things can be used to describe any number of vehicles on the market today. But, when a vehicle is described as any number of these things AND has great resale value? Well, there's something that makes you sit up and take notice.
Edmunds.com recently named three Chrysler Group vehicles as winners of its 2014 Best Retained Value® Awards. The award-winning vehicles and each of their categories are:
2014 Jeep Wrangler, Compact SUV
2014 Dodge Challenger, Midsize/Large Coupe
2014 Ram ProMaster®, Commercial Van
In addition, the following Chrysler vehicles received honorable mention plugs in each of their categories:
2014 Chrysler 300, Large Sedan
2014 Chrysler 200, Midsize Convertible
2014 Chrysler Town & Country, Minivan
"Chrysler Group is honored to accept these awards from Edmunds.com," said Doug Betts, Senior Vice President – Quality, Chrysler Group LLC. "Great resale value reflects the strengthening of our brands and the improvements in the customer satisfaction and quality for these award-winning products."
So what, you ask? Why is this really such a big deal?
Unless you have never before ventured into the car-buying market, you've undoubtedly heard something to the effect of, "When you buy a new car, you lose money the second you drive off the lot." And therein lies the importance of resale value.
Most vehicles are financed. Interest (and sometimes fees) accrues, so your costs go up. Mileage and wear impact the value of a vehicle, causing the value of the vehicle to go down. This is where a higher resale value can help you. If your vehicle retains its value well, it will be worth more on trade, helping to bridge the gap between what is owed and what the vehicle is worth.
Chrysler Group LLC has an entire lineup of amazing vehicles. If you haven't checked them out recently, it's worth your time. And when you find the one that you can't live without, Chrysler Capital has a lineup of finance and lease options to assist you in making that vehicle your own. You don't even have to leave your house. Apply for financing online from the comfort home and save time at the dealership!