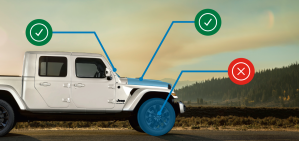 Most drivers know that regular maintenance is the key to keeping a vehicle running smoothly.
After all, a well-cared-for car means a safer ride and less chance of repair bills down the road.
But how good are we at putting that knowledge into practice?
For this April's National Car Care Month, we carried out a poll asking, "How often do you perform vehicle maintenance?" to find out.
On a roll or stop and start?
With clear benefits resulting from maintenance ahead, the good news is that nearly half of respondents, 48%, are conscientious in their care. So much so that they follow the vehicle manual's recommendations precisely.
If you're a like-minded driver who goes by the book, congrats to you and your car!
Another large group, at 44%, however, are more relaxed about the health of their vehicle and only get maintenance carried out when a warning light on the dashboard appears.
These drivers don't, apparently, want their vehicle – or their journeys – to suffer, but they have a little catching up to do to keep their car in the best shape possible.
Some way behind both groups is a third, outlying number of drivers who don't seem to be on the right track at all. When asked about vehicle maintenance, 7% of respondents answered "What?"
Thankfully, National Car Care Month is here to show them the way.

What to do in April
April is an important time to sort out any issues that may have cropped up over the winter and prepare your vehicle for spring and summer road trips, says the Car Care Council. In particular, the council mentions the need to make sure tires, brakes and windshield wipers are ready for rain.
Chrysler Capital customers have an easy ride when it comes to vehicle maintenance as FCA US dealerships will expertly service their vehicles and provide any maintenance required.
If you're a lease customer, remember that vehicle maintenance is still a responsibility. Check your Chrysler Capital Lease Agreement to ensure you know the terms for your vehicle's condition, wear and tear and mileage allowance.