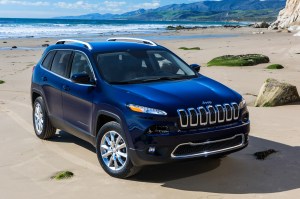 Leave it to the Jeep Cherokee to leave us wanting more for over a decade and then come back with a bang. I have made no secret that I have been a huge fan of this vehicle from the moment I first laid eyes on the "sneak peak" pictures more than a year ago. But I'm also not one to make hasty decisions. I tend to take plenty of time (sometimes too much) to make a major purchase, choosing instead to see how a product performs over time.
With a few miles now in the rearview mirror, I'm thrilled to see others as revved up about the Jeep Cherokee as I have been from the start.
If you haven't already scoped out the reviews, here's a snapshot of just a few that are out there:
"The new-for-2014 Jeep Cherokee SUV has more off-road capability than most of its buyers will ever think of using. In classic Jeep fashion, it will take on boulders and swamps that other vehicles in its class dare not confront. But even as we were effortlessly negotiating the precarious cliffs of the Moab, Utah, landscape, we had to wonder, 'Does it make any difference?' You might be able to answer that based on your own expectations, but if you are considering a Ford Escape, Toyota RAV4 or market-leading Honda CR-V, you should be aware that the Cherokee is a different animal: not only can it climb mountains, but it offers creature-comforts that might well be the best in class." – Kelley Blue Book, www.kbb.com
"The 2014 Jeep Cherokee is as trail-ready as its predecessors, but it's way more relevant to the overwhelming majority of buyers who think of their SUV as a car. The Cherokee brings the same level of product execution that the Grand Cherokee possesses but into a smaller segment." – Car and Driver, www.caranddriver.com
"The Rocky Mountain region challenges any vehicle with high altitude and constantly changing weather conditions. The 2014 Jeep Cherokee is equipped to handle this tough environment, while also offering comfort, utility and efficiency." – Rocky Mountain Automotive Press
"We really like the new V6 engine, as it gives the 2014 Jeep Cherokee a relaxed, refined demeanor not found in any SUV with a four-cylinder engine. There's plenty of power here, and the new nine-speed automatic provides smooth upshifts."– Edmunds, www.edmunds.com
As if making an award-winning re-entry back into the market were not enough, for the 2015 model year, Jeep Cherokee is offering Engine Stop-Start (ESS) technology as standard equipment when a customer opts for the available 3.2L Pentastar V6 engine. ESS will instinctively adapt to your driving style, seamlessly and automatically activating to improve fuel economy and reduce CO2 emissions by up to three percent.
A recent vacation to the mountains had me saying more than once, "If I only had my Jeep Cherokee…" Ah yes. If only. I'm pretty sure that day is going to come sooner rather than later and my days of longing to own one will come to an end – right around the same time my days of having a monthly auto payment will once again commence.
Have you been looking at the Jeep Cherokee as well? Before you leave the house, apply for financing with Chrysler Capital. With our competitive rates and lease deals for qualified applicants, you can save time at the dealership and shop with confidence.