I don't ALWAYS talk about cars and trucks. But when I'm hanging out with my friends and the conversation steers that way, who am I to stop it? So last weekend, when one of my friends told me he loved his old Dodge Ram and would definitely buy a new Ram truck (when he's ready), I wanted to know more.
As it turns out, when I say "old" Dodge Ram, I mean it. His truck is almost 13 years old and very close to breaking the 250,000-mile mark. "But it still runs great!" he says.
Admittedly, he didn't want a Dodge back when he bought it, but he got such a good deal, he couldn't pass it up. He hasn't regretted it since. Except for regular maintenance and standard wear, he hasn't had any kind of major repair work or expense. And when it comes to road trips (like the 2,750-mile trip from which he just returned) it's always his vehicle of choice.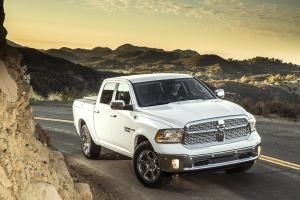 More and more new truck buyers are making the move to Ram trucks. Why? There isn't just any one reason. For some, it's because its the truck that rides and feels like a luxury vehicle. Others are opting for the light-duty diesel engine that is now exclusively available from Ram.
Many, like my friend, just want something they can count on, year in and year out.
When you are part of Detroit's Big Three and your truck sales are continually going up against some of the most popular in the U.S., it is a tough uphill battle. But slow and steady wins the race and Ram trucks have slowly been making strides over the last five years. With the complete redesign that came in 2013 and the only truck ever to win MotorTrend Truck of the Year two consecutive years, Ram truck is grabbing the attention of many and making them sit up and take notice.
If you're in the market for a new truck, Chrysler Capital has lease and finance offers that suit every lifestyle. And the best part – you can apply for financing online, from the comfort of you own home, before you ever even set foot in the dealership! Check out our online application – it's quick, it's easy and qualified applicants can save time at the dealership.