Recently, I bought new tires for my vehicle. Shortly thereafter, I got new brakes. And, upon returning home from the brake shop, my insurance bill for the next six months was in the mailbox. Fabulous.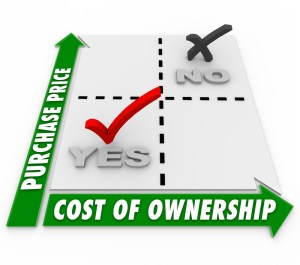 Owning a vehicle isn't cheap. Things like insurance, regular maintenance costs, repairs, depreciation of a vehicle over time, and even annual registration fees (these can be quite costly, depending on where you live) are all items that most don't take into consideration, but over time, they add up. And that money has to come from somewhere, right?
When you start shopping for new vehicles, what do you look for first? Price? Vehicles that suit your lifestyle? What options are available on your dream vehicle? Fuel efficiency? Those are all fairly common questions that cross the minds of car-shoppers, but who thinks about long-term costs of ownership? What is long-term cost of ownership? Why think about it? Does it really matter?
Long-term cost of ownership is all of the random things for which you dish out money over the period of time that you actually own your vehicle. There are the obvious items like fuel costs, insurance and regular maintenance costs, but most don't take into consideration the cost of financing, repairs, annual registration and depreciation. When you add it all up over a period of time and then add it onto the selling price of the vehicle, it can make a significant difference in the total cost of a vehicle in the long-term.
If you are in the market for a new vehicle and trying to decide between two or three different models, try looking at the long-term cost of owning each one to help you decide which to buy. Kelley Blue Book breaks down a five-year cost-to-own at www.kbb.com/new-cars/total-cost-of-ownership that makes it easier to look at the expenses we incur as well as how each one plays into the overall ownership picture.
Kelley Blue Book also issues awards each year for vehicles with the lowest cost to own, per their formula on the link above. Taking the top spot for Best Compact SUV/Crossover, is the 2014 Jeep Patriot. With things like the up to 30 highway mpg, over 30 available safety and security features and its low depreciation cost, it's easy to understand why some of the cost-to-own expenses are more affordable.
Topping the list of Best Minivan/Van Category is the 2014 Dodge Grand Caravan. Celebrating its 30th birthday, the 2014 Grand Caravan boasts the award-winning 3.6L Pentastar V6 engine that can deliver up to 3,600 pounds of towing capacity. Also awarded a 2013 IIHS Top Safety Pick, with over 55 safety, security and technology features to choose from on any of its four models, it suits nearly any lifestyle and budget. Winning the cost-of-ownership award only further proves the benefits of being a Dodge Grand Caravan owner.
Chrysler Capital wants to be the lender in your ownership equation. Whether it's a Jeep Patriot, a Dodge Grand Caravan or any of the other great Chrysler Group vehicles that have caught your eye, applying for financing online with Chrysler Capital is fast and easy. Click here to apply today and have your results in seconds.