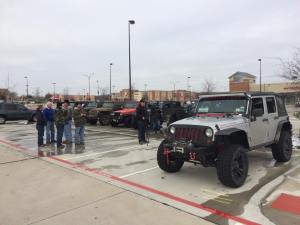 In general, Texas winters are pretty mild. That's why, when we get an icy blast, the roads are more like riding the bumper cars at the fair – except it's far less fun.
A lot of people stay home, but for those who have to go to work, reaching their destination safely takes an extraordinary amount of time and patience. Travel slowly. Carefully maneuver around those who have not fared as well and/or find a new route around a highway that has been shut down altogether. It can prove to be challenging and stressful.
When our first bout of winter storms hit this week, a group of Jeep owners made icy travels on the south side of Dallas just a little easier.
Members of the Chisholm Trail Jeep Club gathered to help clear the mess that is typically known as eastbound Interstate 20, not far from Mountain Creek Parkway. It's a stretch of road that always seems to have problems when icy conditions come into play (I know this because I live not far from there) and it can sometimes take hours to get things moving again.
Not this time though.
With wreckers seemingly busy in other areas of the city or stuck in traffic and unable to get to the mess, members of this Jeep club pulled out eight semi-trucks, approximately a dozen cars and a news van.
Here's the best part – they did this for FUN. And all for FREE.
According to one member, Nora Cortez, they just wanted to help. "We wanted to get together and do some good for some people this morning and we have Jeeps that are really good to do it."
That's a pretty plain and simple way of putting it. If you watch some of the video footage as the Jeeps pull out one of the big rigs, they make that look easy too. But of course, having the proper equipment, tires and know-how is critical when it comes to towing another vehicle out of a precarious position, particularly in icy conditions.
The Chisholm Trail Jeep Club is a relatively small group – only about 40 members strong. But don't let the size of their membership fool you. This is a small club with a whole lot of heart.
Check out the Chisholm Trail Jeep Club and watch the videos on Facebook.