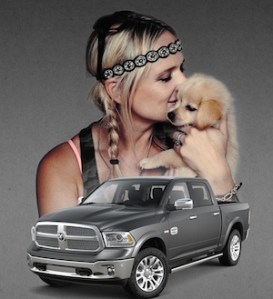 Put together one of the most decorated women in the history of country music with the only truck to win MotorTrend Truck of the Year two consecutive years and what happens? Everything simply goes to the dogs.
Earlier this month, Ram officially kicked off their partnership with country music superstar and animal lover, Miranda Lambert. A customized Ram 1500 Laramie Longhorn, similar to the one Lambert drives herself, was part of a 10-day auction, benefitting Lambert's MuttNation Foundation. The truck sold for $54,901. Other items auctioned to benefit the foundation included autographed guitars and other memorabilia such as a signed copy of her most recent album, "Platinum."
Born and raised in rural Texas, Lambert is no stranger to pickup trucks.
"I have lived my entire life surrounded by trucks even to this day. I am so happy to be partnering with Ram," said Lambert. "And I'm thankful for their generosity in allowing me to auction off a Ram Laramie Longhorn for MuttNation Foundation. It's a cause so close to my heart!"
A mom to six fur-babies of her own, Lambert and her mother, Bev, established MuttNation in 2009. The foundation works to end pet suffering and homelessness.
Equally excited about the partnership is Robert Hegbloom, President and CEO of the Ram Truck brand. "Miranda Lambert and Ram Truck are a perfect fit," he said. "She values hard work, courage and lives her life to the fullest – the same characteristics that our brand celebrates in our owners."
As you eagerly await the announcement of Ram's and Lambert's next project, you can watch her this weekend, along with a host of other well-known animal lovers, as they join forces on the Great American Dog-a-Thon.