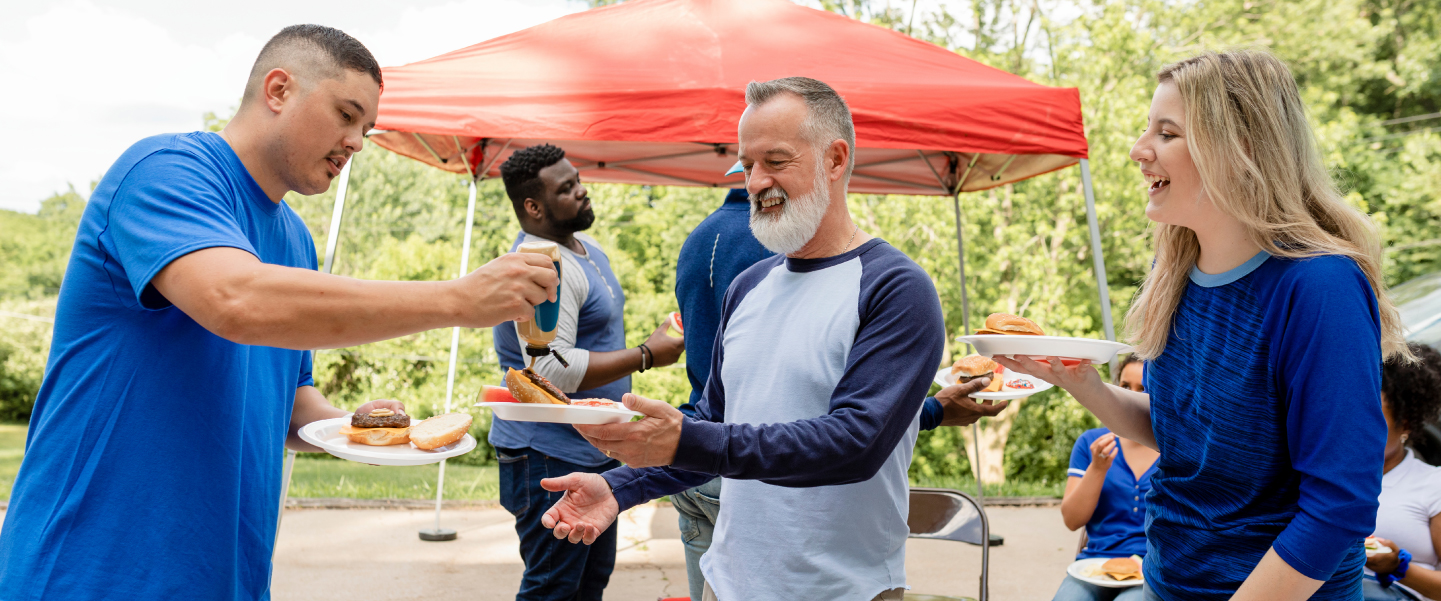 With the arrival of autumn, comes many of our favorite things. Leaves changing color, fall flavors and scents, cooler weather, and oh yes, football.
There's something about the first kickoff under Friday night lights that perfectly ushers in this time of year. Then there's the college games making for wonderful Saturdays. And NFL games on Sunday. And Monday. And Thursday. Lots of opportunities to embrace some serious couch time or head to a game in person.
Along with the fun of attending a game, is the additional contest surrounding the gridiron event – the tailgate party. A tradition that's been around since the 1860s, tailgating has evolved into its own signature part of the gameday experience.
It's even been recognized with "national holiday" status. This year, National Tailgating Day falls on Saturday, September 3.

Considering how modern stadiums rival amusement parks in size and parking spaces, it's a good idea to thoroughly gameplan your pregame before you load up the truck or SUV and head to the event.
Study our playbook to improve your chances of having a tailgate party worthy of a touchdown dance.
How do you spell a successful tailgate party? F-O-O-D! Hot dogs, chicken wings and potato salad, oh my! Preplan your pregame menu in advance, including prepping any meats you'll be grilling. Same goes for baked dishes and slow-cooker recipes that may need extra time. Don't be afraid to attempt trick plays (new recipes) that could be a huge hit.

Avoid delay of game penalties by stocking up on your ingredients and necessities a few days before game day. Nothing slows down gaining positive yardage like having to rush into a grocery store to pick up condiments, napkins, plasticware or disposable cups. You for sure don't want to be late to the pregame, let alone the game itself.
Call it in the air. As you set up the grill, pay attention to the way the wind is blowing. You don't want BBQ smoke blowing in your guests' faces and causing a neutral zone infraction.
In terms of drinks, play by the stadium rules (see Coaches Corner below). Know if there are any restrictions to alcoholic beverages or glassware in your tailgating zone. Glass bottles may be prohibited, so opt for cans or plastic containers to hold your liquid refreshment.
Uniform attire. Support your team by sporting your favorite, season-friendly foam fingers, blankets, T-shirts, sweatshirts, jerseys, face paint and more. In fact, take your game to the next level by bringing enough face paint to share and add a painting party to your tailgate experience.
Pitch play. Make sure you're covered in case of rain, hot sun, falling leaves or snow with a pop-up canopy protecting your tables of tasty food. And pack enough portable chairs for all the guests in your party.
Bring trash bags, plenty of trash bags. You may not be near a garbage can in the stadium lot where you are tailgating, and you want to be able to clean up properly prior to heading out and avoid equipment violations.
Keep your cool – running out of ice definitely calls for a flag on the play. Make sure you have plenty of the cold stuff for your cold stuff, and lots of cooler space. An extra cooler or two never hurt either.
Power bars. From speakers to help crank up the jams to portable charging devices for all of your phones, you'll be glad you've packed them all to keep the good times charged up. Also have your emergency car care kit organized so you are prepared and can help fellow fans if needed.
Perfect hand-eye coordination. Have wipes and paper towels — for cleaning up the food areas, grilling utensils, spills and, more importantly, everyone's hands and faces before heading into the game.
Last, but not least, have fun. No unsportsmanlike conduct. Be friendly and meet your neighboring tailgaters. Wear your foam finger proudly and … let's go team!
Coaches Corner
Huddle up before you head to the stadium and review your destination's tailgating guidelines. You may discover too late that grilling over an open flame or using a deep fryer is prohibited. Checking ahead goes for bag policies as well for entering the stadium. Many are insisting on clear bags and clutches or are prohibiting purses altogether.