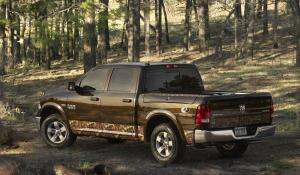 Call it what you want, camouflage ain't just for huntin' anymore. Camouflage is cool and it has been for a while. It's on the fashion runways, it's on our smart phones, and it's on our feet. For some of us it's in our homes. When I was looking online, I even found camouflage billiard balls.
Now, after taking a year off, the Ram 1500 Mossy Oak® Edition is returning to the Ram Truck lineup and there will again be camouflage on our trucks. Why? Because demographics show that Ram Truck owners are passionate about the great outdoors.
"Ram Truck is focused on the needs and wants of truck buyers," said Reid Bigland, President and CEO – Ram Truck Brand, Chrysler Group LLC. "Our Ram Truck owners are passionate about hunting and fishing. The Ram Mossy Oak Edition gives hunting enthusiasts a way to proudly proclaim their love for the outdoors."
The Mossy Oak brand is well known among outdoor enthusiasts for its modern camouflage designs. Thirty percent of Ram Truck owners are hunters and over 40 percent enjoy fishing and camping. A partnership between the two brands seems almost natural when you think about it.
"The Ram Truck brand has been a great partner to Mossy Oak," said Ronnie "Cuz" Strickland, EVP of Mossy Oak. "The people there love trucks, but they're also into hunting and fishing and understand that their customers are, too. To have Ram take that relationship to the next level by offering a special Mossy Oak Edition speaks volumes about their commitment to hunters and Outdoorsmen and women, and we are extremely proud to partner with them."
Based on the popular Ram Outdoorsman, the Ram Mossy Oak edition trucks will be available exclusively as a Ram 1500 4×4 Crew Cab. The RamBox Cargo Management System will be available in both the 6-ft.-4-in. and 5-ft.-7-in. bed lengths—an option available for the first time that makes this truck stealth with practicality. Gear for any adventure can be easily tucked away in these versatile compartments, safely out of sight, yet easily accessible.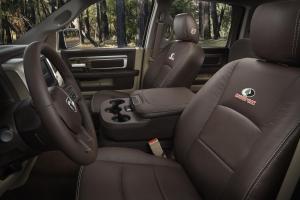 The Mossy Oak Break-Up Infinity® camouflage pattern covers the bedcaps and tailgate of the truck and is also available on the lower cladding. On the interior, you will find the same camouflage pattern tastefully integrated into the door panels and the instrument panel. Additionally, the Mossy Oak logo is displayed on the rear quarter panels and embroidered into each of the four main headrests.
The Ram 1500 Mossy Oak edition will begin hitting showroom floors early in 2014 at a starting price of $39,985, plus $1,195 destination fee.
Save time at the dealership! Click here to apply for financing on a new Ram Truck today.