It's a new kind of math – the kind where a midsized sedan also adds up to the hot, new car on the market and then takes the top rankings in all kinds of safety tests. It all adds up to the 2015 Chrysler 200 being named a 2014 Top Safety Pick Plus by the Insurance Institute for Highway Safety (IIHS).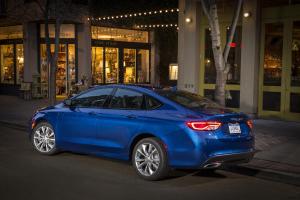 "The [Chrysler] 200 aced the challenging small overlap front test with a good rating in every measurement category," said IIHS President Adrian Lund. "Chrysler should also be commended for offering forward collision warning with autonomous braking on this mainstream midsize car. Our research shows that these systems are effective in preventing some kinds of crashes from happening altogether."
But what does that mean, exactly?
We frequently hear vehicle manufacturer's extolling the virtues of their IIHS-award winning vehicles. When you break it down, there is good reason why. Vehicles are put through a battery of tests. Then, not only is the structure of the vehicle evaluated, but also the resulting impact on the crash test dummy inside the vehicle.
The tests include:
Two front crash tests, one with a small overlap and one with a moderate overlap
Side crash test, simulating an impact with a large SUV or pickup
Roof crush test, consistent with a rollover
Rear collision with enough impact to cause whiplash, testing head restraints and seat safety
Crash-prevention evaluation
It's a rigorous testing process, and in the end the vehicles, frankly, look pretty rough. But the important part is that they do their job in keeping their passengers safe from harm when the unthinkable happens.
Optional safety features and considering a vehicle's IIHS ranking are both good ideas. But you can't subtract plain, old common sense from the calculation. Paying attention to the road and using your head will always be two principal factors in the safe driving equation.
In addition to receiving the 2014 IIHS Top Safety Pick Plus, the 2015 Chrysler 200 has also received the following awards:
Ward's 10 Best Interiors for 2014
Must Test Drive Vehicle for 2014, AutoTrader.com
Midsize Car of Texas, Texas Auto Writers Association (TAWA)
If you're in the market for a new vehicle visit your local Chrysler dealer and check out the all-new Chrysler 200. But before you go, get preapproved for financing with Chrysler Capital.