One of the best parts of my job is researching, learning and knowing more about FCA vehicles than the average, everyday Jane Doe you meet on the street. But every now and then it gets the best of me … like when I want to go for a test drive when I don't want to give up too much information about what I do for a living.
I recently paid a visit to Waxahachie Dodge Chrysler Jeep®. Interested in a Ram EcoDiesel®, I've done everything so far except take one for a test drive. Finally I decided that if I'm serious about getting one of these beauties, it's time to fish or cut bait, so to speak. I needed to drive one.
So off we went.
Before I go further, I need to apologize to the gentlemen who were so gracious to help us. I didn't realize it was after closing time when we left, yet Daniel A. and Mike W. went over and above, even though we made it clear we weren't ready to make a final decision and sign on the dotted line. Kudos to them and their dedication to customer service.
Okay … enough about my faux pas and let's talk about my future truck.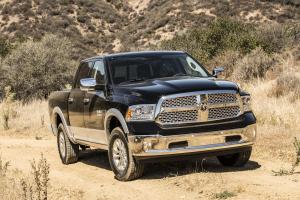 We drove a black 2015 Ram 1500 Laramie® Crew Cab EcoDiesel. It's easy to become a fan of this truck on paper. It's the only half-ton diesel truck available in the U.S., for starters, but at up to 28-highway mpg, it gets better highway mpg than any other full-size pickup on the market.
Driving it, however, will take you down a whole new path. Forget being a fan. You will fall in love.
Walking up to the truck, the purr of the 3.0L turbocharged diesel V6 was almost soothing. Seriously. This thing is quiet, quiet, quiet. If you buy diesel because you enjoy the beastly roar of the engine, you're not going to find that here. But EcoDiesel's many other attributes may make you come to appreciate its quiet nature.
The truck's responsive handling made driving it almost effortless and the suspension provides a remarkably smooth ride. Devoid of a gearshift (Ram 1500 has the rotary dial shift knob), the already-spacious cabin seems huge while backseat passengers also have ample head and legroom. Both the drive and the ride felt more like a luxury sedan than a half-ton truck.
After an extended test drive, would I buy this truck? Absolutely. I'm more convinced than ever that this will be our next vehicle.
Thanks, again, to the guys at Waxahachie Dodge Chrysler Jeep. See you soon!