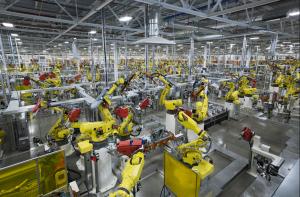 What do Ron the (former) space shuttle guy, rubies and ostrich feathers all have in common? All play an integral role in the making of a Chrysler 200.
Crazy, right?
Not when you see it all come together. And thanks to the Chrysler 200 Factory Tour, you can watch from your computer or mobile device.
I've often wondered what it might be like to tour an auto assembly plant. To be sure, part of that is the car geek in me. But mostly it's because I cannot fathom the sheer magnitude of such a facility and the intricacies of all the working parts.
The virtual tour, an interactive online experience, takes you inside the 5 million-square-foot facility of the Sterling Heights Assembly Plant (SHAP). Located in Sterling Heights, Michigan, SHAP is home to 1,214 robots and employs 3,260 workers.
"I personally wish everyone could visit the plant to walk through and experience the fascinating process live," said Oliver Francois, Chief Marketing Officer, Chrysler Group, LLC. "But since we can't bring people to the plant, we've worked with Google to openly bring the plant to the people, so they can themselves experience how these processes drive precision, reliability and deliver an exceptional and truly all-new Chrysler 200."
Don't assume that, because this is a tour of an auto assembly plant it is boring and full of high-tech and/or motorhead lingo. Shawn Jeffers, the narrator and, by day a Senior Plant Manager, keeps it lively and fun. She explains things well without over-simplifying the obvious. Throughout the tour she imparts her knowledge on some really interesting things, like that a micron is one-millionth of a meter. Or that, before going to the paint shop, the body of a Chrysler 200 receives seven baths AND seven showers. (And you thought YOU were clean when you got out of the shower this morning!)
I've taken the full tour once and then gone back to revisit bits and pieces. Truly built to be an interactive experience, the same care and thought was put into the creation of this virtual tour, as is the every-day build of the Chrysler 200.
So, what roles do Ron the (former) space shuttle guy, rubies and ostrich feathers play in the making of the Chrysler 200? You'll just have to take the tour and see for yourself.