It's time! It's finally here! No, it's not Christmas or my birthday, so you can stop checking your calendar. It's the Ram National Circuit Finals Rodeo and it feels like it took FOREVER to get here.
Events start today and run through Saturday night at the Lazy E Arena in Guthrie, Oklahoma. Participants from across the country will be competing for some of the biggest prizes of the year, including $20,000 vouchers toward the purchase of a new Ram truck.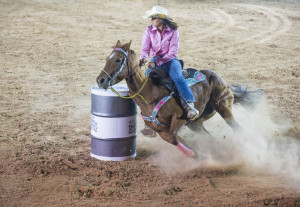 One of the events I am most looking forward to this time around is barrel racing. If you've never been to a rodeo before, this is the only event in which women compete, and I'm not going to lie, that may very well have something to do with why I'm looking forward to it. But beyond that, there is something really exciting about the combination of speed, strength and sheer beauty when a competitor and her horse fly through the gate and maneuver the course. You find yourself holding your breath, crossing your fingers and just praying they do well.
It took me awhile, but after attending a few competitions I have grown a little more accustomed to the pace and come to appreciate the relationship that exists between the riders and their horses. That probably sounds a bit strange, given that I don't personally know any of the riders and I am anything BUT a rodeo expert. The more you watch, though, the more you pick up on the subtleties of how they move together. There's a quiet trust and dedication that exists when a rider and her horse are a true team. The agility and strength that exudes from this connection is both powerful and graceful all wrapped into a few seconds of breathtaking speed.
The last rodeo I attended, the first rider came out of the gate strong and set a tough stride for everyone that followed, with a time of 14 seconds flat. Not to be outdone, each of the next three riders improved upon the previous time by 0.01 of a second. In the end, the winner clocked a time of 13.95 seconds. It was just about the most nail-bitingest barrel competition I've seen to date.
Twenty-four barrel racers will be competing in this weekend's events. Among them will be some of barrel racing's elite, including Sherry Cervi from Marana, AZ, Mary Walker from Ennis, TX, June Holeman from Arcadia, NE, Christy Loflin from Franktown, CO, Lisa Lockhart from Oelrichs, SD and Nikki Steffes from Vale, SD.