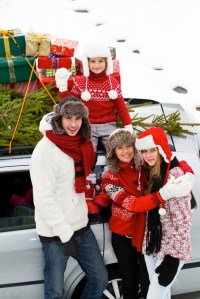 Ahhhh…the holiday travel season. What fun it is! NOT.
As with almost every year for the last five years, AAA is projecting near-record travelers to be on the roads again for the 2013 holiday season. "While economic growth has stagnated and consumer confidence has fallen Americans will not be Scrooges when it comes to traveling this year," said AAA Chicago Regional President Brad Roeber. "Of all the travel holidays, the year-end holiday season remains the least volatile as Americans will not let economic conditions dictate their travel plans to celebrate the holidays."
With this in mind, you almost have to ask yourself, "Am I ready to hit the road with all these other folks?" I did, and suddenly I found myself mentally going through Dad's checklist of getting the car ready for a road trip. Starting from the ground up:
 How are the tires? Are they worn? Do you need to check the air? When was the last time you had them rotated? Don't put this one off until the last minute. If you're like me, you might need a couple new tires!
Make sure your headlights, turn signals and flashers are all in good working condition and clean. Dirty or dingy lights and signals make them dim and more difficult for other drivers to see.
Are you due for an oil change? Or close? Might as well get that taken care of and have them check all the fluids and the air filter while you're there.
When was the last time you replaced the windshield wiper blades? Are they chipped? Worn? Old? It might be time for a new set and what better time to get them than just before you head out on a trip?
Okay, the vehicle is all set. Now, have you checked the weather report for the route you intend to travel? Hopefully, Mother Nature will smile down on us all this year and bless us with beautiful weather as we drive to visit family and friends, but in reality, someone, somewhere is going to have some less-than perfect weather. Check out Staying safe this winter season for some tips on safe winter driving.
And finally, are YOU all set? Did you pack all the clothes you're going to need? (Did you overpack? Be honest…do you really need six pairs of shoes for a three-day trip?) Are there gifts you need to take with you that need to be packed? Did you promise to bring any food items, like your secret-recipe fudge or specialty eggnog? What about necessities for any four-legged family members that might be traveling with you? I don't know about you, but I have to make a list and check things off as they go in the car.
The holiday travel season can be stressful, if you let it be. The key to remaining stress-free is to do your best to plan ahead but understand that things happen. Tis the season for spending time valuable time with loved ones. Arrive safely and enjoy! Happy holidays!