Road trips are a part of American life, and with the country offering every terrain imaginable, there's something for everyone to see.
According to a recent study, 81 percent of Americans plan to set off on a road trip this summer – so which routes should they take?
We've looked at data including the highest-rated American byways – main highways, scenic drives, obscure roads, pastoral countryside – on Tripadvisor to bring you the best road trips to explore.
Let's start by considering the best states for road trips overall.
We examined a number of criteria for this, including miles of byway, the number of roads in each state carrying the status of "America's Byways," and the greatest number of five-star reviews that roads with this status received on Tripadvisor.
America's Byways include those designated as National Scenic Byways and All-American Roads, and are recognized for having one of more archaeological, cultural, historic, natural, recreational and scenic qualities.
Based on this set of information, the number one state road trippers should head to this summer is Arizona.
With five of America's Byways offering a total of 7,024 five-star reviews, travelers have plenty to explore, including the best-rated road trip in the state – the Red Rock Scenic Byway.
Home to Blue Ridge Parkway, North Carolina is the second-best U.S. state for a road trip. It, too, has five roads with America's Byways status, which have garnered 6,047 five-star reviews between them.
Florida is the third-best state with 4,405 top-rated reviews across six designated byways. Among them is the Florida Keys Scenic Highway, which extends five miles into crystal clear waters with truly breathtaking views for travelers to enjoy.
Next up are the best-rated individual American byways.
Here are the top three roads classified as America's Byways holding most five-star reviews on Tripadvisor:
The Blue Ridge Parkway in North Carolina is the best-rated byway in the U.S., with 5,875 five-star reviews alone. Along this 469-mile road trip, visitors can find Mount Mitchell, the highest mountain peak in the eastern U.S., New River, which, despite its name, is the oldest river in North America, and many other breathtaking sites.
Arizona's Red Rock Scenic Byway has the second-highest number of five-star reviews with 3,594. This road trip is much shorter than the Blue Ridge Parkway, taking only three hours to drive. Often referred to as the "museum without walls," there is plenty for people to see and do, including hiking and biking.
Trail Ridge/Beaver Meadow Road in Colorado is America's highest continuous paved road and is also the third-best byway according to Tripadvisor. The route takes travelers above the tree line into alpine tundra for 11 miles and boasts 3,420 five-star reviews.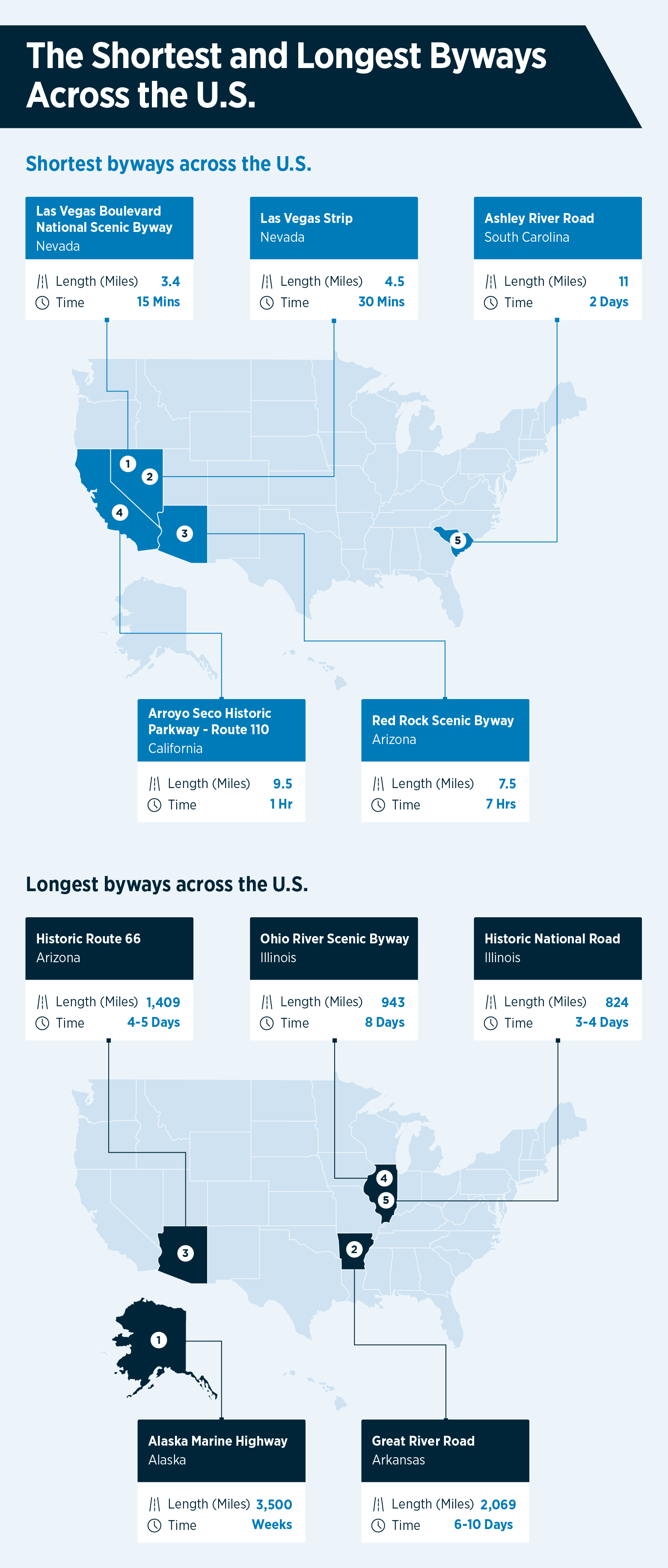 The beauty of road trips is that you are in the driver's seat and have control over whether the trip lasts for a few hours, a day, a week or longer. With a wide range of different trips available, there is plenty of choice depending on your interests and the amount of time you'd like to spend traveling.
If you're interested in a short trip, Las Vegas, Nevada, has the two shortest routes in the U.S., with the Las Vegas Boulevard National Scenic Byway taking a brief 15 minutes to complete and the Las Vegas Strip just 30 minutes. However, there's plenty to explore, so once you've admired the area from the comfort of your own vehicle, why not stop off and enjoy?
For those wanting an epic journey, look no further than the Alaska Marine Highway. Totaling 3,500 miles, it's the longest trip with the America's Byways classification and travelers are advised to spend several weeks exploring all it has to offer.
What about something in between these timeframes? If four to five days is more suitable, try historic Route 66. Another of America's longer byways, it spans 1,409 miles over which you can take in the world-famous route and enjoy the sights and attractions of several states along the way.
Choosing the right car for a road trip
As we have seen, every road trip is different. Some are long and need to be planned well in advance while others are short and need far less preparation.
Whether you're a parent who needs to ensure their children are comfortable and entertained or you are hoping to explore America's breathtaking sights with friends, your choice of vehicle will be an important part of your road trip experience.
Here are some great options to consider when you're choosing a vehicle for an upcoming trip.
Jeep® Wrangler
Picture yourself exploring America's greatest byways in one of the nation's most iconic vehicles – the Jeep® Wrangler. The versatile Jeep Wrangler is built for almost any landscape and with legendary 4×4 ability, including the electrified Jeep Wrangler 4xe, innovative technology and a variety of different trim levels to choose from, it has features that will make for a truly memorable journey.
Wagoneer
If a premium SUV is what you have in mind, consider the Wagoneer, another vehicle with a storied American history. This vehicle offers state-of-the-art technology and comfort on a grand scale. With seating for up to eight and the most overall passenger volume1 and most cargo volume behind the third row2 in its class, there's plenty of room to travel in style. Add in best-in-class maximum towing capacity3 up to 10,000 pounds, available and renowned 4×4 capability plus a suite of sophisticated safety features, and you can see that Wagoneer leaves no stone unturned.
Dodge Durango
Combine performance with three rows of comfortable seating in the stylish Dodge Durango. Durango models blend these qualities superbly and include the 2022 Dodge Durango SRT® 392, the fastest and most powerful American three-row SUV, able to tow up to 8,700 pounds.1
Ram 1500
Do you need a little more room as well as the ability for towing? Attach your caravan or trailer to the 2022 Ram 1500 pickup truck which offers a choice of five legendary engines along with bold appearance and a luxurious cabin. The 2022 Ram 1500 is the most luxurious truck in its class,2 equipped with leather-trimmed seating options, exceptional legroom and storage, and the technology you'd expect from a premium pickup.
Methodology
Researchers created a seed list of road trips and then examined the number of five-star reviews given to each journey on Tripadvisor to reveal the best U.S. road trips. States and byways with the greatest number of five-star reviews were ranked highest.
1 Based on Ward's large sport/utility vehicle segmentation.
2 Based on Ward's large sport/utility vehicle segmentation.
3 Based on Ward's large sport/utility vehicle segmentation. When properly equipped. See dealer for details.
4 Based on top speed and towing capacity. When properly equipped.
5 Based on Ram 1500 Limited/Laramie Longhorn standard premium content comparison to Ford F-150 Platinum, Chevrolet Silverado 1500 High Country, GMC Sierra 150-0 Denali, Toyota Tundra and Nissan Titan standard full-size pickups.