One final drive.
While the Dodge Viper may no longer be in production, that doesn't mean it still can't take one final spin around the block.
Well, around the auction block. Fans, bidders and waves of nostalgia traveled through the Barrett-Jackson Northeast Auction at Mohegan Sun in Connecticut as the last ever 2017 Dodge Viper as well as the 2018 Dodge Challenger SRT® Demon went out to the highest bidder.
The winning bid not only got one, but both, of the last-produced vehicles that possessed a combined 1,485 horsepower (840 on the Dodge Challenger, 645 on the Dodge Viper). Most importantly, 100 percent of the auction proceeds were donated to the United Way.
"We know the power of the Dodge Viper and Dodge Challenger SRT Demon to put a smile on people's faces; we're smiling today because we know the power of this donation to the United Way," said Steve Beahm, Head of Passenger Car Brands, Dodge//SRT, Chrysler and FIAT – FCA US LLC.
"These particular vehicles mark the end of their eras as the last vehicles of their kind to be built; it's rare to have just one such vehicle cross the auction block, much less a pair at the same time."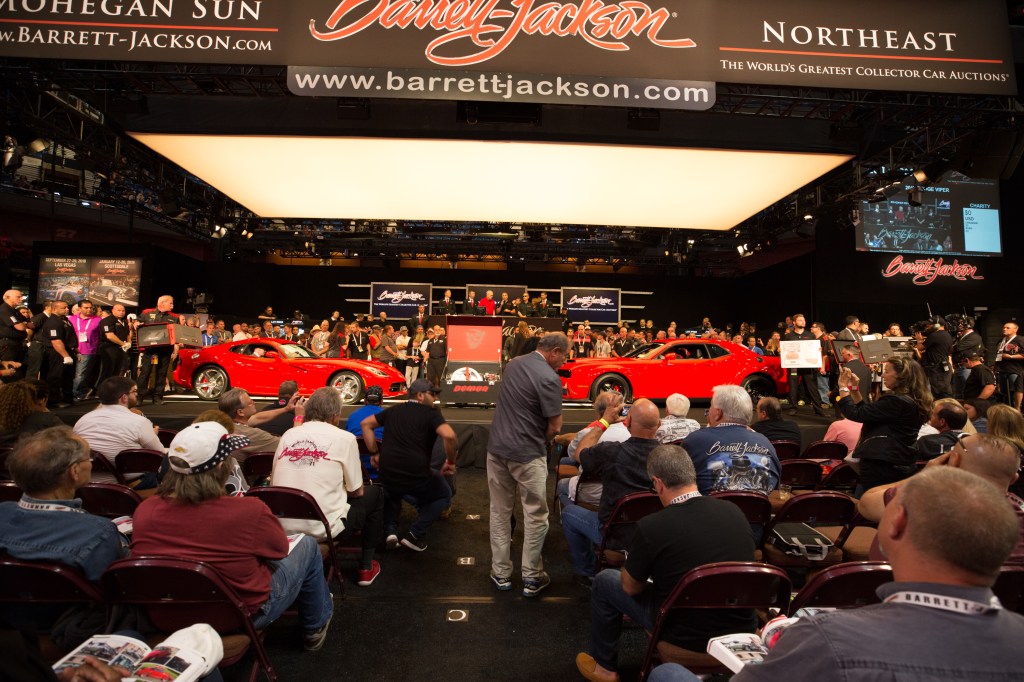 Beahm indeed had much to smile about as the spirited bidding war concluded with the pair being for an astonishing $1 million.
The Dodge Challenger was hand-painted to match the Viper's vintage red exterior, and boasts as the world's fastest quarter-mile production car (9.65 seconds ET/140 miles per hour) certified by the National Hot Rod Association.
Other items in "The Ultimate Last Chance" lot included several pieces of memorabilia, such as authentication kits for each vehicle containing custom build sheets, authenticity letters, certification cards, iPads with videos and pictures, and other custom branded items.
"We've been fortunate to have many incredible moments on the auction block for charity sales over the years and this was another one," said Craig Jackson, chairman and CEO of Barrett-Jackson.
"The winner is taking home two spectacular and historically significant vehicles, and we can't thank Dodge enough for bringing this special moment to our Northeast Auction at Mohegan Sun."
A worthy finish for an iconic vehicle.