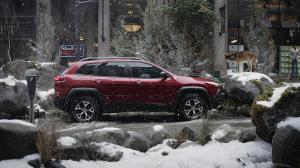 Visualize this – you're running late for work so to miss some traffic you opt to take an alternate route. But suddenly you're faced with a detour sign.
Then, instead of the clear, inconspicuous side street you expect to see, in front of you is a road transformed into a living forest, complete with snow banks, boulders, rocks, a mountain river, live trees and wolves. (Yes, I said wolves.)
It must be a dream, right? Except it isn't. It really happened in downtown Vancouver, Canada, courtesy of the folks at Jeep®.
Why? Because there is no better way to showcase the extreme versatility of the Jeep Cherokee than to put a real person in real life situations in the real world.
"We wanted to bring to life the real world capabilities of the Jeep Cherokee in a unique approach," said Olivier Francois, Chief Marketing Officer, FCA – Global. "So how do you do that? By taking what is essentially an experiential event where unsuspecting drivers are being filmed navigating a busy metropolitan street that has been turned into a fully functional mountain river and let them experience the capabilities of the Jeep Cherokee for themselves. Our 'River in the City' takes an untraditional approach to create a powerful statement that the Jeep Cherokee can handle anything a city throws at it."
A 30-second "River in the City" commercial aired on television earlier this month. Check out the 60-second version of the spot below. Or you can view it at www.jeep.com/en/cherokee-the-detour, along with an interview with one of the drivers.
Perhaps most impressive are the behind-the-scenes footage and photo gallery that take you through the build and the shoot. Constructing a set using a million pounds of boulders rocks and sand, 250,000 gallons of water and 400,000 pounds of snow is an amazing feat and the result was astounding.
In the end, the detour in downtown Vancouver turned out to be one these drivers will likely never forget. Leave it to Jeep to create the test drive to outperform all test drives.
Thank you Jeep Cherokee for teaching us how to appreciate the detours in life.